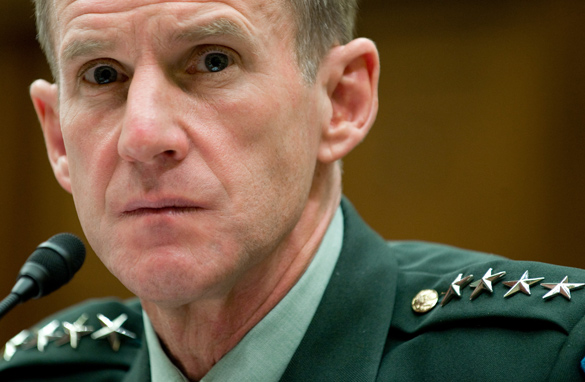 (PHOTO CREDIT: SAUL LOEB/AFP/GETTY IMAGES)
FROM CNN's Jack Cafferty:
Sometimes timing is everything… and when it comes to the war in Afghanistan the timing of the departure of General Stanley McChrystal is awful.
The U.S. is in the midst of escalating the nine year old war in an effort to defeat the spreading power of the Taliban and Al Qaeda.
This surge of tens of thousands of U.S. troops was pretty much McChrystal's plan - and he had close ties with leaders in Afghanistan and neighboring Pakistan.
Also - summer in Afghanistan is usually a time of heavy fighting and allied forces are on the eve of the Kandahar offensive. This month is on track to become the deadliest month for NATO troops since the start of the war in 2001.
But the president decided that McChrystal had to go. and on one level, you can't argue with him.
McChrystal's job was to implement the president's war plan on the battlefield. But he and his inner circle found it appropriate to trash top administration officials and make destructive personal attacks to a reporter from Rolling Stone magazine.
Just imagine what our enemies must think - not to mention families of the thousands of brave troops fighting in Afghanistan.
It put Pres. Obama in a very tough spot - he risked looking weak if he didn't fire the general... and now he could be accused of undermining his own strategy in Afghanistan by cutting loose the guy he put in charge at such a key moment.
Even before this incident - only 42 percent of Americans said they favor the war in Afghanistan - that's down six points since March. 56 percent oppose it.
Here's my question to you: How does the McChrystal episode affect Americans' confidence in the Afghanistan war?
Interested to know which ones made it on air?
Jerome writes:
What happens in Afghanistan will not be affected by the change in commanders. McChrystal had to go. As one who spent 27+ years in the U.S. Air Force, I was surprised and upset at the animosity in his published comments. How could he and his staff ever forget who they work for? A disgrace!
Hank writes:
Petraeus has always displayed the mature attitude necessary for a cohesive executive approach to the war. McChrystal and his staff did not, and therefore could not be trusted to follow orders correctly. This is serious business, Jack, with thousands of American and Allied lives on the line, and Obama must do everything in his power to ensure the best possible outcome, regardless of personalities.
Shelly writes:
One man really shouldn't matter. He was a manager, that's it. He was responsible for implementing a strategy and it seems the corrupt Karzai government was the most supportive of his role. That certainly doesn't give him a lot of credibility. The good from all of this is likely the renewed focus on the war itself. What can we hope to achieve by being there? What are the costs? I think the American people have spoken on this and it's time to go and deploy our resources in more productive areas.
Rook in Cincinnati writes:
Jack, Confidence in the war will not be affected. There is no victory there to be won. We just had a bomb planted in Times Square that did not detonate, indicating Al Qaeda does not have a safe place to properly train terrorists to effectively attack us. That is the victory we are trying to achieve in Afghanistan and Pakistan, keeping them disorganized and on the run. Hopefully Gen. Petraeus can soldier on and not grant interviews.
Chris in Houston writes:
I am ex-military, 8 years in the U.S. Air Force. Unfortunately, General McChrystal did this to himself and he let down the troops and the American people. He knew better and his staff should have known better. A sad commentary on a remarkable military career.