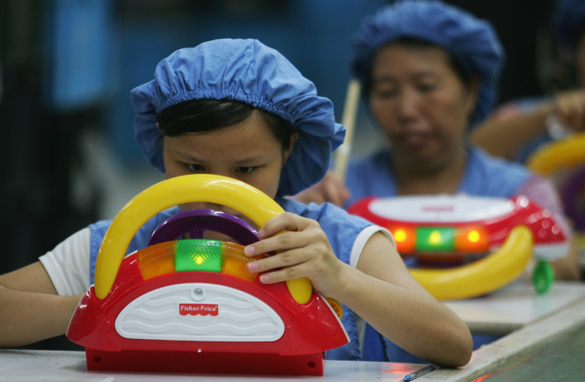 (PHOTO CREDIT: GETTY IMAGES)
FROM CNN's Jack Cafferty:
It's an ominous sign of the end of an era:
For 110 years, the United States has been the world's leading manufacturer... a title we will likely lose to China next year.
A report by an economic research firm shows that China's manufacturing sector nearly caught up to the U.S. output last year... and will probably surpass us in 2011.
According to IHS Global Insight, China may be able to quickly close the gap - particularly due to the recent announcement that it will let its currency, the yuan, rise in value versus the U.S. dollar.
But even without a stronger currency, China's manufacturing sector has been growing at a much faster rate than the U.S.
No surprise since we've been shutting down factories left and right for years... and shipping jobs overseas, where the labor is cheaper.
One expert suggests the U.S. shouldn't worry too much about losing this title to China.
He says it's obvious that China would pull ahead at some point since they have four times the population and a tenth of the wages of the United States.
Really?
Then why didn't they challenge us for 110 years?
Nonetheless - with almost 10 percent unemployment in the U.S. there's no question we could use those lost jobs back here.
The U.S. has been the world's top manufacturer for more than a century - in the late 1890s, the United States surpassed Britain, which had held the top slot for a few decades.
And before that?
It was all China, which held the title of world leader for goods production for more than 1,500 years.
Looks like they will soon reclaim the title.
Here's my question to you: What does it mean if China overtakes the U.S. as the world's leading manufacturer?
Interested to know which ones made it on air?
Bob in Arizona writes:
It means the beginning of the end for this country. To sustain our standard of leaving, I believe you must make things and create wealth for all who are willing to work for it. We will all be answering to China in the not-so-far-off future.
Mike in Oklahoma City writes:
It means that we have allowed large corporations to sell out our country while we sat back and bought cheap goods made by slaves in the third world.
Ralph writes:
China holds all the cards. First they do not have to hire based on diversity; they pick the most qualified, like Japan. Next, no E.P.A. or unions. No immigration problems, their schools and health care take care of only their own citizens.
David in Las Vegas writes:
Just add manufacturing to the long list of first place titles we've lost in the last 20 years. Although we are first in many areas: obesity, high school dropouts, percentage of our population in jail, drug use, medical costs, illegal people in the country, etc. This list is growing as I type.
Daniel writes:
It means that China, like the U.S. a century ago, is getting closer to becoming the world's economic superpower. And why not? America is divided on almost every single important issue, politicians are beholden to every lobby and the country is ultimately unable to modernize and move forward. Yes China is rising, but it's America's own fault for falling behind.
Anne Marie in Pennsylvania writes:
Great for China, so sad for the U.S. I grew up in a small town in Pennsylvania that boasted factories of all sorts – dresses, shirts, shoes, hats, furniture. All gone, not one left. Welfare was rare. There was pride in earning a paycheck and satisfaction in a job well done. Our government, unions, lawyers and greed have destroyed what once made America great.