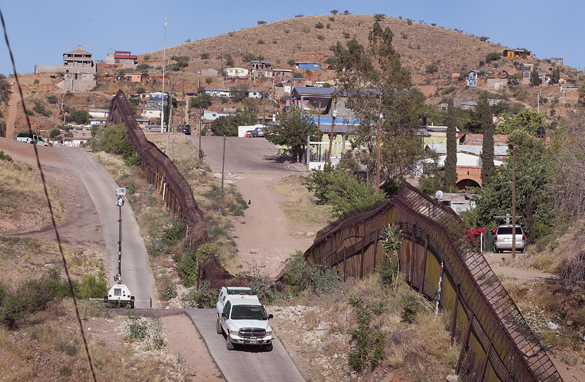 A U.S. Customs and Border Protection agent drives along a portion of the border fence that separates Mexico and Arizona. (PHOTO CREDIT: GETTY IMAGES)
FROM CNN's Jack Cafferty:
Just about the last thing Arizona needs is a federal lawsuit over its new immigration law.
Governor Jan Brewer tells HumanEvents.com that she would rather the federal government use that money to "help me build a fence on my border."
Brewer has sent a letter to Attorney General Eric Holder urging the department of justice not to file suit - because there are already five federal court lawsuits pending.
They all are challenging Arizona's new law, that goes into effect July 29, and requires police to check the immigration status of people detained for other crimes.
Brewer says that every conceivable constitutional issue or question will be raised in these five other lawsuits. She wants the courts dismiss all of them.
In addition - the governor says she's hiring a private attorney to defend this new law since Arizona's Attorney General opposes it.
Brewer says other border states, like California and New Mexico, which oppose the law are simply not facing the same problem as Arizona is... she refers to her state, Arizona, as "the gateway for all illegal immigration, drug cartels and gangs" coming into the U.S.
And she's got a point. 3,500 acres of southern Arizona along Mexico's border - including a national wildlife refuge - have been closed to U.S. citizens for nearly four years because of increasing violence tied to illegal immigration. Officials have warned visitors to Arizona to beware of heavily armed drug smugglers and human traffickers.
It's no wonder A majority of Americans support Arizona's new law.
Here's my question to you: Should the federal government sue Arizona over its new immigration law?
Interested to know which ones made it on air?
D. in Arizona writes:
I totally support our governor in this issue. I am proud of her for having the courage to take this stand. She (like we all) is tired of the lack of help we have received from the federal government with regard to protecting our civil rights and our borders as Americans. Kudos to Governor Brewer!
Sandra in Temecula, California writes:
Sue them for what? Trying to enforce the laws on the books and protect their state from criminals and the high cost of supporting illegals? Maybe Arizona should be suing the federal government for not doing its job. When did it become illegal to enforce the law?
Stan in Boston writes:
Why do people tell us that a majority of people want a law when we are discussing whether the law is Constitutional? It is irrelevant to the discussion. A majority of people in this country are Christian. Would you say that a law requiring everybody to be Christian would be ok because a majority supported it?
Robert in Arizona (retired Colonel, US Air Force) writes:
Jack, I served 5 counter-drug tours of duty along the border as a military intelligence analyst and can tell you first-hand our state's border (I live in Prescott, AZ) is indeed one very dangerous place to even consider visiting. The federal government has no business suing Arizona. The Arizona law, and I've read it, is written exactly like the federal law. The government under Bush and now under Obama has failed to enforce our immigration laws.
Tom in Quito, Ecuador writes:
Not necessary! I am confident it will be challenged by others. In the fullness of time, it will be decided by the Supreme Court.
Norm writes:
The federal government should thank Jan Brewer and Arizona for doing their job. Then the government should step up to the plate and secure our nation's borders. The U.S. is a sovereign country.
Lynn writes:
No! How dare they waste our tax dollars to try to challenge what the majority support! Typical Democrats.