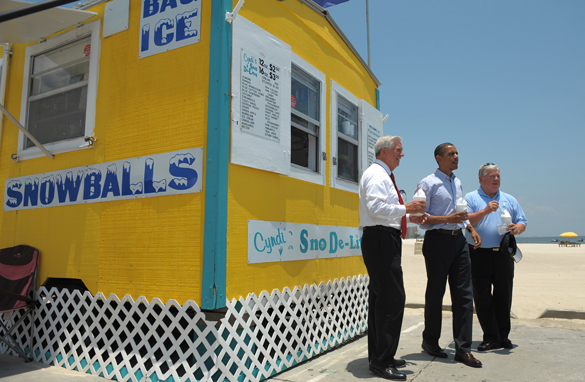 Pres. Obama, Mayor George Schloegel (L) and Mississippi Gov. Haley Barbour (R) enjoy snowballs after a roundtable discussion with local residents in Gulfport. Obama has implored Americans to visit southern Gulf coast beaches, as the tourism industry fears a hammering over the BP oil disaster. (PHOTO CREDIT: MANDEL NGAN/AFP/Getty Images)
FROM CNN's Jack Cafferty:
The best way to help the people of the Gulf Coast is to go down there and visit - that was the message from President Obama as he toured the region earlier this week.
And Mr. Obama did his best to boost the tourism industry, struggling from the spreading oil slick. While visiting with local officials - he strolled the beaches, lunched on local crab cakes and shrimp... and downed a snow cone (down there, they're called "snowballs") in the 95 degree heat.
The president said one Gulfport, Mississippi hotel owner told him that business was down 40 percent due to the oil spill.
The effect of the worst environmental disaster in U.S. history on tourism is a nightmare scenario for small business owners all along the coast... we're talking tens of billions of dollars in lost revenue.
Analysts at Citigroup suggest that the loss of tourism and fishing revenues in Alabama, Louisiana and Mississippi alone could translate to claims of more than $10 billion.
Meanwhile it's estimated Florida could lose a third of its tourism industry... which would mean another $12 billion in lost revenue. Not to mention the hundreds of thousands of people who could lose their jobs.
As the monstrous oil spill continues to spread, it's devastating huge swaths of coastline and marshland - killing an untold number of wildlife... not to mention the economic impact of jobs lost because of the moratorium on offshore oil drilling in the Gulf.
Here's my question to you: In light of the oil spill, would you vacation on the Gulf Coast?
Interested to know which ones made it on air?
Todd in Toronto writes:
Gee, Jack. That's a tough call. Would I choose to spend my vacation time with some of the best people on the planet, visiting one of the most beautiful parts of the world and taking in some great culture, all while helping out a region and population that are struggling through no fault of their own? Tough work, but somebody's got to do it. Sign me up.
Nick in College Station, Texas writes:
I plan on going to Gulf Shores in July. There is no way I would change this. As my summer vacation, I enjoy the town, the activities and the people much more than I do the beach. I plan to continue these trips as I have for the past 10 years, especially now, as their economy depends on my business. It's the American thing to do!
Justin writes:
I have many fond memories of the Gulf Coast, and would like nothing more than for my children to experience the same. However, I could not in good conscience subject them to the hazards of an oil spill. So no, I would not go down to the Gulf at this time.
Linka in Austin, Texas writes:
U.S. Gulf Coast runs from Padre Island, Texas to Key West, Florida. I have a beach house at Panama City Beach. Sand/water are perfect, as is the majority of the Gulf Coast. The press has destroyed tourism by not being specific! A catastrophe has not hit the entire Gulf shoreline. They should apologize over and over, and narrow the description of damaged area already harmed by the spill.
Ray in Baltimore writes:
I just did. Got back from four days in Orange Beach, Alabama on Sunday. Unfortunately the beaches were oiled and smelled like a freshly paved road. If you've already got a trip planned there, follow through. The people down there need it.
Sara writes:
We have vacationed in the Perdido Key area for 20 years. We began going there when I was 12 and I am 33 this year… Vacationing in the Gulf Coast region is part of our lives. However, I am 6 months pregnant and there is currently an advisory issued for no swimming in the Gulf and advising pregnant women and children to avoid the area. We have canceled our vacation to the area for this year.
Dan writes:
I already booked my tickets for an August bachelor party in New Orleans. Come hell, high water or oily water, I am Gulf-bound.
Monte in Spain writes:
I wish I could go for a visit tomorrow. Anybody who can, should. Those in the Gulf deserve our full support and anything else we could possibly do for them.
George in North Carolina writes:
No way. Too many politicians.