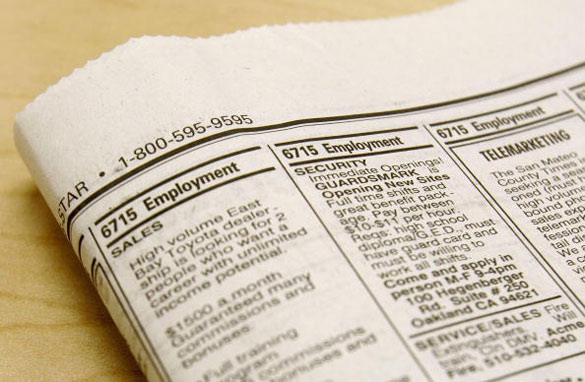 (PHOTO CREDIT: Justin Sullivan/GETTY IMAGES)
FROM CNN's Jack Cafferty:
What if this time is different? What if 10 percent unemployment is the new normal.
Fortune Magazine has a sobering piece that explores whether in today's economy there is no fix for high unemployment.
In addition to all the jobs that have disappeared overseas never to return, it's all about technology. We've already seen computers and robots wipe out lots of manufacturing jobs, as well as clerical and administrative jobs. And it could just be the tip of the iceberg.
Advanced technology might one day replace not only factory workers - but also professionals and jobs that require a college degree or specialized skills.
Skeptics suggest that while new technology might eliminate some jobs - it also creates new employment sectors. Fine… but here's the catch: innovation is likely to erase jobs in more labor-intensive professions... while creating new ones that rely more on technology and don't employ as many people.
Also, whereas in the past, new technological advances would wipe out jobs in one industry at a time - for example agriculture - this time around it's expected to hit hard everywhere.
If all this is true - it could mean the U.S. needs to fundamentally change the way our economy works. Higher unemployment would likely mean a drop in consumer spending, and that's the engine that drives our economy.
It could also mean people relying more on government social safety nets - while there are fewer tax dollars coming in and our deficits are exploding.
And - Fortune Magazine suggests that mainstream economists are "completely oblivious" to the fact that the jobs may never come back. Doesn't bode well for the rest of us.
Here's my question to you: What if high unemployment is here to stay?
Interested to know which ones made it on air?
Chris in Washington writes:
Right on the money, Jack! Automation should be a dream come true for working people. It should mean more leisure time, more time for family, friends and community. However, in our monopoly-controlled economy, it only means more unemployment, more depression, more poverty. It's a crazy system.
Fred writes:
If such is the case, I'd say look for lower living standards and a declining population. In the absence of other positive, intervening factors to correct high unemployment, attrition will effectively pull the numbers in line.
Greg writes:
Technology has always changed the job market from the cotton gin to the automobile to the computer. No use complaining about it, you have to learn to adapt.
Lew in Virginia writes:
Competent scientists and engineers believe that by the middle of this century technology will displace nearly all human labor. Whether they are off by a decade or so, the trend is clearly heading that way.
R.E. in Shreveport, Louisiana writes:
If this is the new norm, it will at least help stop immigration. Studies have proven that the higher the unemployment rate in America is, the lower the immigration rate. Maybe this is not such a bad thing after all.
Lyn writes:
What did they expect to happen when they sent good jobs out of our great country? I can remember when we had all kinds of job opportunities. You could get a job in manufacturing, steel mills, on the river, coal mines, clothing mills, and also make a good living being self-employed. I don't think it will ever be the same. From Reagan through Bush #2, jobs flew out the door.
Bruce in Philadelphia writes:
Jack, it is here. We have entered a depression and no one will admit it.