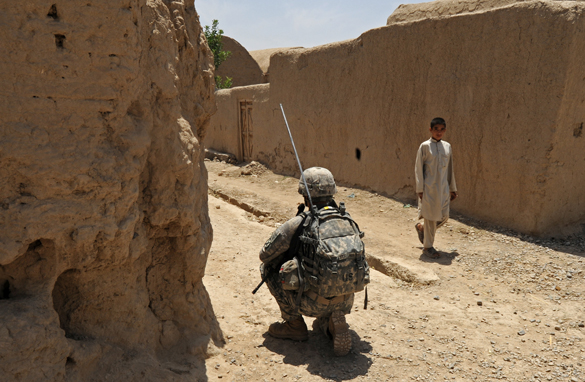 (PHOTO CREDIT: TAUSEEF MUSTAFA/AFP/Getty Images)
FROM CNN's Jack Cafferty:
The U.S. war in Afghanistan by some counts is now the longest war in American history.
It's been 104 months since October 2001 and the start of a hugely popular mission in the aftermath of 9/11.
That's longer than World War II. And that's longer than Vietnam - it was 103 months from the passage of the Gulf of Tonkin resolution to the withdrawal of the last U.S. troops there.
It's worth noting some insist that Vietnam is still the longer war; that American servicemen were taking casualties there as early as 1961 - long before the Gulf of Tonkin resolution.
At first, Afghanistan seemed like a cake walk. Within months, the U.S. had driven the Taliban from the capital city of Kabul. And Kandahar, the headquarters of the terrorist group, was in U.S. sights. In fact, on the one-year anniversary - then Secretary of Defense Donald Rumsfeld said: "The Taliban are gone. The Al Qaeda are gone."
But instead of finishing the job in Afghanistan we invaded Iraq and now nine years later the Taliban seem more dangerous than ever. President Obama recently ordered an additional 30,000 U.S. troops into the war in Afghanistan.
Of course, sadly, that means the deaths of U.S. service members continue... recently passing the 1,000 mark. Yesterday was the deadliest day for coalition forces in Afghanistan this year.
But warfare has changed a lot, and the military death toll in Afghanistan is nowhere near the 58,000 U.S. troops lost in Vietnam or the 400,000 who lost their lives in World War II.
Here's my question to you: Technically the war in Afghanistan is now America's longest. Has it been worth it?
Interested to know which ones made it on air?
John in Cushing, Oklahoma writes:
Jack, We could be at war in Afghanistan for 100 years and the results will be the same: no military victory without the dedication and full cooperation of the Afghan government and its so-called Army. The place is a bottomless pit for American lives and money. I spent 17 months in Vietnam with the Army's 5th Special Forces and I can tell you that winning hearts and minds is a very difficult thing to accomplish. We need to bring our troops home. The Taliban will never give up.
Eric writes:
Worth it? Depends on your time frame. Was it worth it to oust the Taliban who harbored bin Laden? Yes. Is it worth it now? Afghanistan is governed by corrupt men who will pass on the government to more corrupt men. No one has ever subdued Afghanistan, and to think we will change the tide of history this time around is naive. We are in a thankless situation and need to gracefully tip our hats, and leave.
Joe in Minnesota writes:
Jack, Many brave soldiers went to Afghanistan in order to take the fight to the enemy. They did this because al Qaeda attacked us. It's plain and simple. If we don't defend ourselves against what happened on 9/11, then when do we defend ourselves? My answer is Yes!
Phil in Washington writes:
Worth it? One American death negates being "worth it". Why, exactly are we still there? To chase the Taliban and al Qaeda around the mountains? To poison the poppy fields? Obviously we haven't learned a lesson from the Russians. Get the hell out. Bring our brave troops home!
Bill writes:
It's still too early to judge. I think there is still hope that some form of democracy will come to exist in Afghanistan.
Michael in New Mexico writes:
If you had a vested interest in opium and oil it would be worth it. But, if you believed it was about fighting terrorists, no it is not worth it. If you thought it was about democracy and women's rights, pass whatever you are smoking.