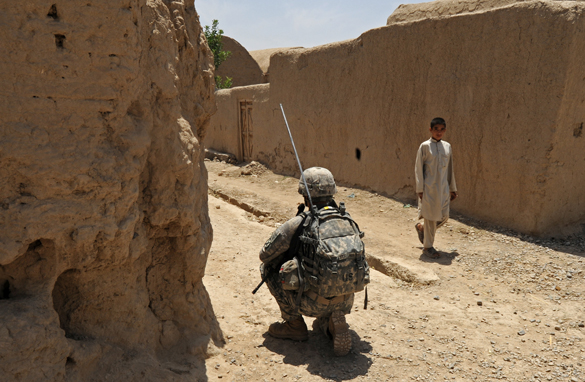 (PHOTO CREDIT: TAUSEEF MUSTAFA/AFP/Getty Images)
FROM CNN's Jack Cafferty:
The U.S. war in Afghanistan by some counts is now the longest war in American history.
It's been 104 months since October 2001 and the start of a hugely popular mission in the aftermath of 9/11.
That's longer than World War II. And that's longer than Vietnam - it was 103 months from the passage of the Gulf of Tonkin resolution to the withdrawal of the last U.S. troops there.
It's worth noting some insist that Vietnam is still the longer war; that American servicemen were taking casualties there as early as 1961 - long before the Gulf of Tonkin resolution.
At first, Afghanistan seemed like a cake walk. Within months, the U.S. had driven the Taliban from the capital city of Kabul. And Kandahar, the headquarters of the terrorist group, was in U.S. sights. In fact, on the one-year anniversary - then Secretary of Defense Donald Rumsfeld said: "The Taliban are gone. The Al Qaeda are gone."
But instead of finishing the job in Afghanistan we invaded Iraq and now nine years later the Taliban seem more dangerous than ever. President Obama recently ordered an additional 30,000 U.S. troops into the war in Afghanistan.
Of course, sadly, that means the deaths of U.S. service members continue... recently passing the 1,000 mark. Yesterday was the deadliest day for coalition forces in Afghanistan this year.
But warfare has changed a lot, and the military death toll in Afghanistan is nowhere near the 58,000 U.S. troops lost in Vietnam or the 400,000 who lost their lives in World War II.
Here's my question to you: Technically the war in Afghanistan is now America's longest. Has it been worth it?
Interested to know which ones made it on air?