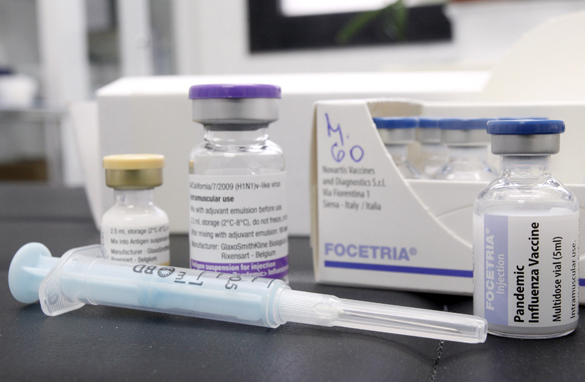 (PHOTO CREDIT: CESAR MANSO/AFP/Getty Images)
FROM CNN's Jack Cafferty:
Remember the swine flu?
Fears of a global pandemic, millions of deaths, shortages of vaccines... and on and on? What we wound up with - fortunately - didn't even come close. There were far fewer deaths than expected and more than 70 million unused doses of the newly created H1N1 vaccine - in the U.S. alone.
And now there's this: Two reports in Europe say the World Health Organization vastly exaggerated the swine flu threat. They say decisions were poorly explained and not transparent enough; and that's why public trust in the W.H.O. is "plummeting."
These reports suggest the UN's health agency didn't disclose possible ties to the pharmaceutical industry when recommending how countries should respond.
They say the W.H.O. caused widespread and unnecessary fear - and caused countries to waste millions of dollars. All the while - and here is the kicker - the agency was getting advice from experts who were on the payroll of the pharmaceutical companies that manufactured the swine flu vaccine.
The W.H.O. says claims that this was a fake pandemic are "irresponsible" and they insist that the organization was never improperly influenced by the pharmaceutical industry.
Sure.
Other experts are defending the health organization, too... saying they made the best decisions they could under the circumstances.
Sure.
Nevertheless, in light of the charges... the W.H.O. has launched two investigations.
Here's my question to you: What if influence from pharmaceutical companies led the World Health Organization to exaggerate the swine flu threat?
Interested to know which ones made it on air?
Alexa in Virginia writes:
I got swine flu last fall. It knocked me flat. I was completely incapacitated for about a month and still feeling it another month after that. I've never felt physically worse in my entire life. I find it completely believable that in someone with a weaker immune system it could have lead to hospitalizations and serious consequences. If the hype over swine flu lead to more immunizations in the people who needed it most- mothers with young children, kids, the elderly, people with compromised immune systems- then I don't care where that motivation came from, it helped to save people's lives.
Stephanie writes:
What about the media, Jack? The media had nonstop coverage both on the possible spread, the possible dangers and criticism that it was taking too long to supply sufficient vaccines across the nation! Talk about exaggeration and pumping up anxiety!
Mark in Chicago writes:
Good question, Jack, especially surprising from you! The reports don't argue that the data was wrong, only that some relationships weren't disclosed. Appearance is everything in ethics and the W.H.O. should have known better. A simple caveat by them revealing the ties would have sufficed, especially since the pedigree of the scientists and epidemiologists consulting for the W.H.O. are top notch.
Marja in Sweden writes:
That's exactly what happened. It was the same way with the bird flu. And the reporters both on TV and in the newspapers incited people to hysteria. I could guess it, so I never took any vaccinations, even though I would have gotten them for free here in Sweden.
Mari writes:
Is anyone surprised? Big Oil, Big Pharma, etc. own our nation.
Brandon in Anchorage, Alaska writes:
If the worst case scenario had played out, and there hadn't been enough vaccines produced, these guys would have been stoned to death. Better to use too much caution than not enough.
Joe in Delray Beach, Florida writes:
There's something not kosher about the swine flu anyway.