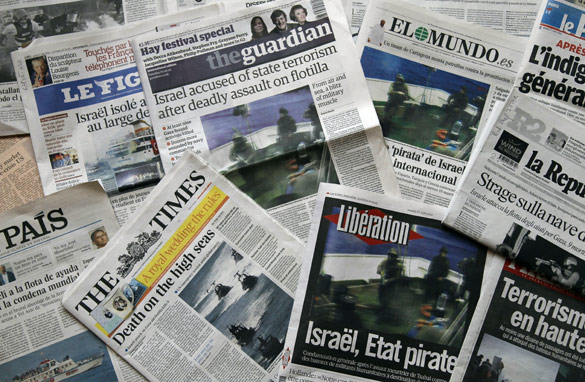 European newspapers' front pages are pictured after nine activists were killed when Israeli navy commandos stormed a Gaza-bound aid flotilla, sparking international outrage - plunging Israel into diplomatic crisis. (PHOTO CREDIT: THOMAS COEX/AFP/Getty Images)
FROM CNN's Jack Cafferty:
It's no wonder Pres. Obama's hair is turning gray... With the Middle East seemingly on the verge of erupting.
The U.S. continues to stand by Israel, which is coming under tremendous international condemnation for that botched, deadly raid on an aid flotilla headed for Gaza.
Details of the attack on the Turkish ship are still fuzzy. Israeli Prime Minister Benjamin Netanyahu is defending the raid which left nine dead; he says Israel's troops were met by a "vicious mob" and that they were stabbed, clubbed and fired upon.
The ship carried 10,000 tons of aid including wheelchairs, notebook paper and water purification systems.
The leader of the group that organized the flotilla says Israel used excessive force on unarmed civilians.
The U.N. has condemned Israel. Turkey, which is Israel's' top ally in the Muslim world, is calling it a "bloody massacre," and describes Israel's actions as "murder."
The U.S. is walking a fine line here... trying not to anger Israel or the Arab world. Good luck. The White House says it's sorry for the deaths but is not condemning Israel's actions.
Tensions are already running pretty high between the U.S. and Israel, and this will undoubtedly only further complicate peace talks in the Middle East and the push for sanctions against Iran.
And the raid raises questions about Israel's ongoing blockade of Gaza... it insists the blockade is meant to stop Iran from sending weapons to Hamas in Gaza. But critics want the blockade to end now.
Meanwhile this story is far from over - with another ship with humanitarian aid due to arrive in Gaza later this week. Israel says it will stop that one too.
Here's my question to you: Is Israel looking to start a war?
Interested to know which ones made it on air?
Sandy writes:
According to the rest of the world, yes. But it does not matter what Israel does, they are crucified. Unfortunately, they made a bad choice to board that ship. We, the United States, need to stand by Israel.
Jason in California writes:
Israel is looking for a war, or at least a conflict to continue to justify their oppression of Palestine. Even if the people on the boats used clubs, knives, etc., Israel boarded their ships COMMANDO-style, from helicopters, people with GUNS and grenades! THIS was the first hostile act. The people on the boats might have defended themselves.
Anthony in New Jersey writes:
Predictably, the vitriolic Arab world and the impotent U.N. joined forces, once again, united against the" Zionists". Even the U.S. has to give lip service to the outrage. Imagine if our country was isolated amongst people bent on our destruction. What would we do if a flotilla floated by giving comfort to our enemies? Only the Atlantic Ocean keeps us from being persecuted every day by these throwbacks. We should not be quick to judge.
Scott in San Diego writes:
No they are not trying to start a war. They are defending themselves as they should. I usually don't agree with Israel as they are very much over the top, but in reality, they have to be. This is a ploy for the Muslims to start war.
Mel in Rancho Mirage, California writes:
Yes Jack, they are. Otherwise how could any one explain their irrational behavior the last few years? They want the Palestinians to leave both Gaza and the West Bank so they can annex it. They even have plans about Lebanon. They want to start David's Kingdom. You are watching Israel use the sympathies of the world for their existence to expand their Zionist Empire. We better wake up and smell the roses or we will find ourselves in a World War.
Tom in Tampa Bay, Florida writes:
How interesting that the United Nations can condemn Israel for this incident even before investigating all the facts, but it cannot condemn North Korea for downing a South Korean vessel even though there is significant and verifiable proof that the vessel was sunk by a North Korean torpedo. Shame.