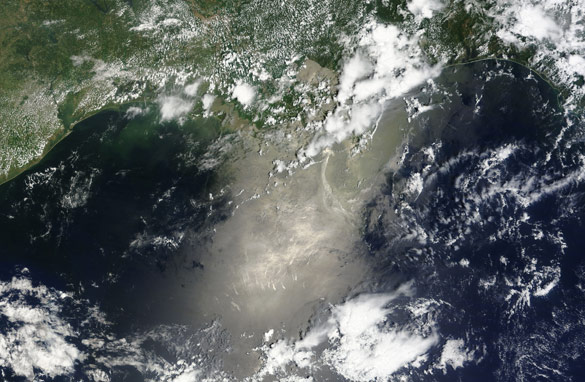 In this NASA handout, the oil slick is seen off the coast of Louisiana with a portion flowing south from the accident site in the Gulf of Mexico. BP will reportedly make another attempt today at stifling at least part of the undersea oil gusher by trying to saw through the pipe leaking the oil. (PHOTO CREDIT: NASA via GETTY IMAGES)
FROM CNN's Jack Cafferty:
It's been 43 days since the start of the Gulf coast oil spill. And the biggest environmental catastrophe in U.S. history has many asking if this disaster has become President Obama's "Katrina."
Once again the people of the Gulf coast have been devastated; and they're calling on both the oil giant BP and President Obama to do more. BP keeps trying - so far unsuccessfully - to stop the leak; and it could be as late as August before a permanent fix is found.
Meanwhile the president is pushing back against criticism that his administration didn't act quickly enough, saying the Katrina analogy is just "flat out wrong."
But some Gulf coast residents say the response to this crisis is even worse than George Bush's response to Katrina - and that's saying a lot. They say there's a disconnect between what the administration says and what's actually happening on the ground.
While the White House insists the law requires BP to clean up its own mess - some environmentalists say the government should just take over the response.
As for Mr. Obama, Maureen Dowd of the New York Times says he waited too long to show his outrage over this and other issues: "The man whose presidency is rooted in his ability to inspire withholds that inspiration when it is most needed."
Here's my question to you: Has the Gulf oil spill become President Obama's Katrina?
Interested to know which ones made it on air?
Paul in Whippany, New Jersey writes:
Obama waited way too long. He has proven over and over again in his short time as president that he is not a leader. Thank God he wasn't president when 9/11 happened.
Jane writes:
Katrina was about the Bush administration's refusal or reluctance to deploy existing rescue teams to aid the human beings in immediate danger. We don't have government leak-stopping teams to deploy… If Pres. Obama wants to avoid part of the blame, he needs to see that the spill is really cleaned up, and then that BP suffers some real punishment. Take away their leases and bar them form any federal contracts, and take away the liability limits for all future spills.
Jack writes:
It should be considered Bush's Katrina II. It was under his watch that the oil companies got to call the shots with him and Cheney.
Tod in Tampa Bay, Florida writes:
Let's be clear: this was a private company industrial accident, not a natural disaster. Katrina resulted in more than 1,800 human deaths. This is not a fair comparison. With that said, the White House is in an unwinnable position in that they do not have the capacity to solve the problem. Until the oil STOPS flowing, the government is hostage to the expertise, intelligence and technological capability of oil companies to fix this.
Kathie writes:
Obama has spent a total of approximately 3 hours in the Gulf Coast. He gives a couple flowery speeches and then goes on vacation. This is not leadership. Even Bush (as much as I dislike him) did better. BP and Obama don't seem to have a clue as to what to do.
Gin writes:
If you mean by this question, "Will he get my vote next time?" No.