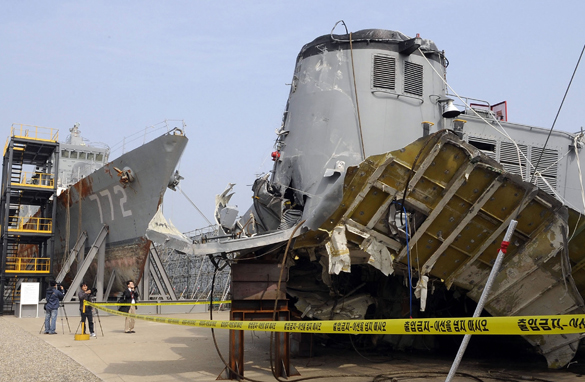 The wreckage of the naval vessel Cheonan is seen, which was sunk on March 26 near the maritime border with N. Korea. A multi-national investigation team concluded that N. Korea's torpedo sank the S. Korean warship, killing 46 sailors. (PHOTO CREDIT: GETTY IMAGES)
FROM CNN's Jack Cafferty:
Secretary of State Hillary Clinton is warning that North Korea must face consequences... in light of a report that it torpedoed and sank a South Korean warship in March - killing 46 sailors.
Clinton, who was in Tokyo, says it's important to send a clear message that provocative actions have consequences... and that this attack can't go unanswered by the international community. Other U.S. officials are calling the attack "unprovoked and unwarranted."
Tensions are already rising dramatically on the Korean peninsula: North Korea denies it had anything to do with sinking the ship, claiming this is "sheer fabrication." They say that if South Korea retaliates, they will respond promptly with tough measures including "all-out war." Pyongyang is also threatening to back out of a non-aggression pact between the nations.
Meanwhile South Korea claims this attack is a military provocation that violates the armistice agreement between the two countries. They point to results of an official investigation - conducted by international experts - which concluded North Korea fired a torpedo that cut the ship in half.
It's unclear what an appropriate response is. North Korea is already under sanctions because of its missile and nuclear tests.
So how to punish North Korea without starting a war?
One expert suggests there are basically three options: Seoul could act unilaterally by cutting off all trade with the north, Seoul and Washington could take bilateral action by stepping up intelligence or naval cooperation. Lastly, the international community could act as a whole - possibly through the UN Security Council. Sanctions have worked so well in the past, haven't they?
Here's my question to you: What consequences should North Korea face for sinking a South Korean ship?
Interested to know which ones made it on air?
Joe in Staten Island, New York writes:
There will be no consequences, other than the usual "strong condemnation" from Pres. Obama in an upcoming speech. With that kind of response, it's little wonder North Korea continues to antagonize its neighbors and the world as a whole.
Neil writes:
Simple, there is a way to 'kill two birds with one stone' as it were. Firstly, China can jerk N. Korea's Kim Jong Ill's chain at will, it just refuses to. All the U.S. has to do is simply state that Taiwan should have the same type of nuclear reactors and capability as N. Korea. The leaders of China will give themselves an aneurism, then jerk Kim's chain REAL HARD.
Henry writes:
We have roughly 30,000 troops in South Korea, they've been there for fifty years. Maybe it's time we put them to work. Every time the North acts out, we handle them with kid gloves and even buy them off. It's time for a spanking. People died and major naval hardware was lost. This is not a finger-wagging incident. A good old fashioned spanking, yes indeedie.
Mike in Boca Raton, Florida writes:
Jack, Wishing doesn't make it so. The difference between "should face" and "will face" is nearly an infinity. We are hamstrung by the perception that the U.S. cannot support South Korea militarily both due to the Iraq/Afghan commitments and by the lack of belief that Obama is a strong leader. Unfortunately I do not think there is any effective consequence that we or our allies can apply.
S. in Michigan writes:
The normal: more stern talk, evil-eyed looks, finger-wagging, fist thumping, bombastic statements, and paperwork. No one will (or can) do anything that's actually effective and makes North Korea change its behavior.
Joe in Minnesota writes:
Jack, They should be sanctioned using the liberal democrat method. That is, the U.N should impose sanctions until we forget about the incident. Then, we should lift sanctions and welcome them back and pretend nothing happened.