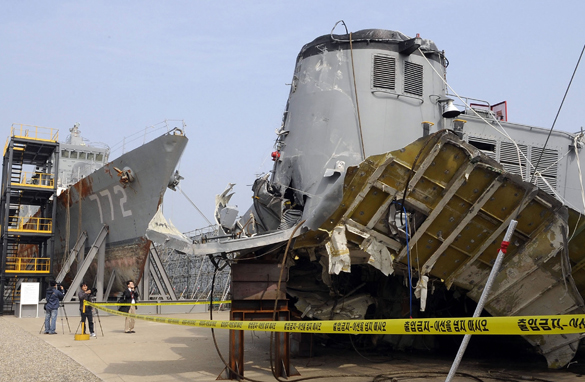 The wreckage of the naval vessel Cheonan is seen, which was sunk on March 26 near the maritime border with N. Korea. A multi-national investigation team concluded that N. Korea's torpedo sank the S. Korean warship, killing 46 sailors. (PHOTO CREDIT: GETTY IMAGES)
FROM CNN's Jack Cafferty:
Secretary of State Hillary Clinton is warning that North Korea must face consequences... in light of a report that it torpedoed and sank a South Korean warship in March - killing 46 sailors.
Clinton, who was in Tokyo, says it's important to send a clear message that provocative actions have consequences... and that this attack can't go unanswered by the international community. Other U.S. officials are calling the attack "unprovoked and unwarranted."
Tensions are already rising dramatically on the Korean peninsula: North Korea denies it had anything to do with sinking the ship, claiming this is "sheer fabrication." They say that if South Korea retaliates, they will respond promptly with tough measures including "all-out war." Pyongyang is also threatening to back out of a non-aggression pact between the nations.
Meanwhile South Korea claims this attack is a military provocation that violates the armistice agreement between the two countries. They point to results of an official investigation - conducted by international experts - which concluded North Korea fired a torpedo that cut the ship in half.
It's unclear what an appropriate response is. North Korea is already under sanctions because of its missile and nuclear tests.
So how to punish North Korea without starting a war?
One expert suggests there are basically three options: Seoul could act unilaterally by cutting off all trade with the north, Seoul and Washington could take bilateral action by stepping up intelligence or naval cooperation. Lastly, the international community could act as a whole - possibly through the UN Security Council. Sanctions have worked so well in the past, haven't they?
Here's my question to you: What consequences should North Korea face for sinking a South Korean ship?
Interested to know which ones made it on air?