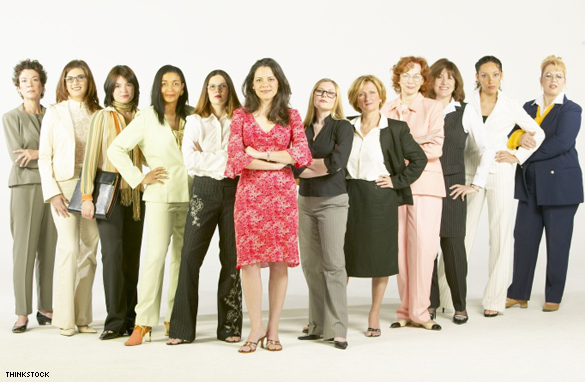 (PHOTO ILLUSTRATION: THINKSTOCK)
FROM CNN's Jack Cafferty:
"You aren't too smart, are you? I like that in a man." That was the actress Kathleen Turner in the movie Body Heat. She was speaking to the character played by William Hurt.
It's one of the greatest movie lines ever; and 30 years later, it may resonate with a growing number of marriages.
That's because compared to men, women are advancing more when it comes to education and their careers. This translates into more women marrying men who are less educated and earning less money than they do.
A recent Pew study shows 22 percent of married women made more than their husbands in 2007. That number is up sharply from four percent in 1970.
When it comes to education, women make up about 60 percent of students with advanced degrees in fields like medicine, law, business and other graduate programs.
Also, the recession has hit men harder... with nearly five million jobs being lost by men, compared to two million for women.
So how does this change in traditional gender roles affect marriages? In some cases, experts say there's still a stigma on men who make less... and that professional women don't want to "marry down."
But others insist it works for them: one executive at a Wall Street firm says she finds her husband's career as a dog-walker refreshing. Others say couples can have a healthy marriage as long as both spouses share similar goals and values.
Here's my question to you: What does it say when many women are better educated and make more money than their husbands?
Interested to know which ones made it on air?
David in Virginia writes:
Your dinosaur bones are showing, Jack. At what point do "traditional roles" of barefoot, pregnant and in the kitchen give way to "traditional roles" of equal partners and competitors? I don't think half the people under 25 in the country would even understand the relevance of your question to the realities of their experience and expectations.
Donna in Wisconsin writes:
I'm not sure I understand your question, Jack. You have never asked 'What does it say when many husbands are better educated and make more money than their wives'? Women have always been smarter - we are able to multi-task much better than men. But men have always been afraid of us being their equal. I think it is a religious thing: God created MAN and then woman. He left the best til last!
Michael writes:
If 22 percent of women earn more than their husbands, then 78 percent of husbands earn more. This tells us we are slowly approaching gender equality in the workplace and still have a long way to go.
B. writes:
I have a higher degree than my husband, and so do most my married female friends. Traditional-gender roles are slowly becoming less and less important… It is a new age where women are finally being looked upon as equals, and much of that has to do with the lengths we have traveled to promote education.
Taylor writes:
I think that as long as the bills get paid and both are happy that nothing else matters.
Tracy in Sarasota, Florida writes:
Uh, duh! It's what we've been telling the world all along. Women are smarter than men. That's why you should just listen to us and do what we say.