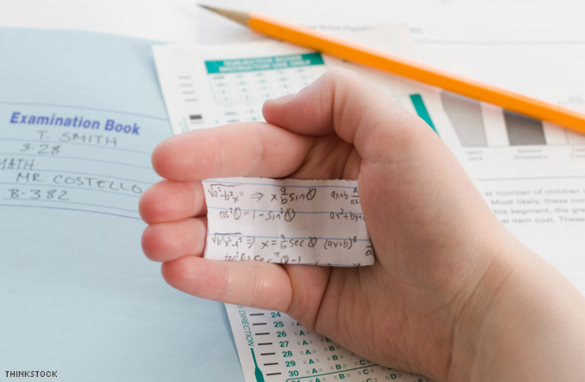 (PHOTO ILLUSTRATION: THINKSTOCK)
FROM CNN's Jack Cafferty:
The U.S. isn't only headed for bankruptcy when it comes to our finances... it looks like we could be going morally bankrupt too.
A new Gallup poll paints a depressing picture of the state of our moral values in the U.S.
45 percent of those surveyed describe morality in this country as "poor"... only 15 percent - fewer than one in five– say "excellent or good."
These numbers rank among the worst in this poll over the last decade.
The survey also shows 76 percent of Americans say moral values in the U.S. are getting worse... only 14 percent say they're getting better.
So what's wrong with us?
Poll respondents give many examples when it comes to how moral values are getting worse. From the disrespect of others to parents not teaching their children good values; from dishonesty among government and business leaders to rising crime, loss of religion, breakdown of the family structure; and people not being accountable for their own behavior. No one's responsible for anything anymore. Everybody's a victim.
And believe it or nor this is one thing all political parties agree on... neither Republicans, Democrats nor independents give positive ratings of moral values.
It's a crying shame that in this great, free country where anything is possible, we as a society have such a negative view of how we behave and how we treat each other. It's hard to imagine how we can come together to solve our problems... if we have such a poor opinion of the next guy.
Here's my question to you: What's behind a precipitous decline in America's morality?
Interested to know which ones made it on air?
A. writes:
The rampant narcissism, sense of entitlement and lack of consideration for your fellow human being. People feel like they should be able to do whatever they want, whenever they want, and screw you if you don't like it. Part of it is parenting, but the other part is society and celebrities condoning that attitude. "My family thinks I'm awesome. Why don't you?"
David in Oregon writes:
What's behind the decline in morality? Simple: media. Television, internet, video games, music, and cell phones all play a role in the demoralization of this country. Cry freedom of speech all you like but when nothing is censored then everything eventually leads to the lowest common denominator.
Al writes:
So much of the problem with morals in our society can be traced to the breakdown in the family. Children are not given the guidance that leads to self-respect and if you don't respect yourself, how can you have any respect for your fellow human beings? And if the children try to look up for direction, all they see is the lure of the almighty buck, from the corporations to the government.
Sarah writes:
I don't think there is any decline in morality these days. Consider that 150 years ago we kept human beings as slaves, 100 years ago American workers worked in terrible conditions for low wages with no safety net, and 50 years ago African Americans were still being lynched. I think we've come a long way and I'd much rather live into today's society than the world of the past.
Pete writes:
Jack, This is what happens when people stop going to church. Until people hit "rock bottom" in their carefree lives, religion is not cool. But when they do melt down, I'll bet few turn to Hugh Hefner for answers.
Dee writes:
Morality started declining when we stopped wearing hats and gloves and suits and ties out to dinner and a movie.