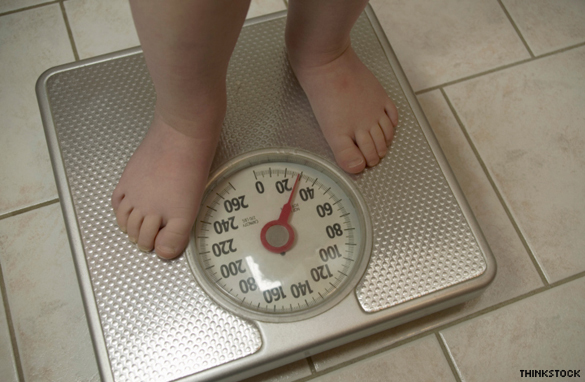 (PHOTO CREDIT: THINKSTOCK)
FROM CNN's Jack Cafferty:
The government might soon be in charge of tracking how fat or skinny American children are.
Under the Healthy Choices Act - states would receive federal grants to track the body mass index of children ages two through 18 years old. The bill would require doctors in these states to collect this information and then pass it on to the state government... which would in turn pass it along to the feds.
The bill says that federal officials would use this data to identify obesity trends in different parts of the country... and how those trends change depending on gender and socioeconomic status.
Also, if a child's body mass index is greater than the 95th percentile, the bill requires the state to give the parents information on how to lower it... and on local child obesity programs.
One of the bill's sponsors - Democratic Congressman Ron Kind from Wisconsin - tells Cybercast news service that no one would be forced to come into their doctor to get their body mass index tested.
It would be taken when the child is at the doctor for a regular visit. The bill's sponsors also point out that any data collected will not include the patients' names.
This is all part of the larger measure that funds several programs and introduces new regulations meant to reduce obesity. Many would argue this is long-past due... with One-third of all U.S. children and two-thirds of all adults either obese or overweight.
Being fat also means being more likely to have everything from diabetes to heart disease to some kinds of cancer. And the costs of treating those things affect us all.
Here's my question to you: Should the government start keeping track of how fat our children are?
Interested to know which ones made it on air?
Donna in Illinois writes:
The federal government already has too much control and they still want to be in control of every aspect of our lives. Here's an idea: keep track of the federal deficit and spend more time on important issues, i.e. jobs, the economy, immigration reform and cutting spending.
Rob writes:
Absolutely. First, there's nothing wrong with collecting some relevant anonymous data and second, it's literally a "growing" problem. I'd think there'd be more outrage if the government were doing nothing about it.
June writes:
No they should not. My daughter is overweight but it's due to a thyroid problem. The doctors kept saying she was overweight and put her on diets, then after 15 years they finally listened and found she had a thyroid problem. The government has too much control over our lives as it is. Enough is enough!
Steve writes:
Initially I would think no, but much like regulating the stock market, the free market has shown it cannot be trusted to take care of itself in matters of health and obesity. I think it's a good thing for the government to step in to help the U.S., which is becoming the fattest and unhealthiest country on Earth.
Frankie writes:
No. They should keep track of what schools feed children. Ever since Reagan tried to have ketchup count as a vegetable in school lunches, things have gone downhill.
Tara in Texas writes:
No. The government can not even keep track of who is in this country legally, much less trying to keep track of children's weight. Parents are the ones that need to step up to the plate. It is their children, not the government's children, whose health is at risk.
Sarah in Denver writes:
No. Hell, no! My body, my kid's body, my business! This is just another step toward the government telling us where, what, when, and how to eat. Stop the food police now!