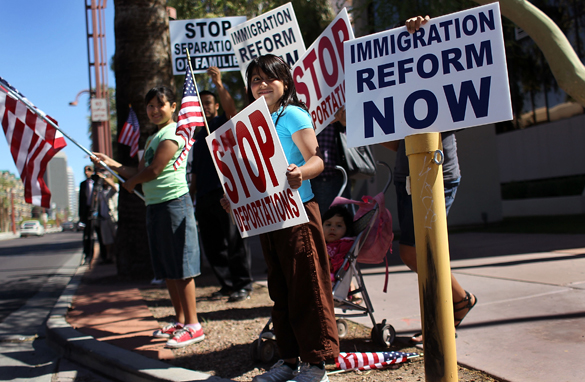 Demonstrators protest Arizona's new immigration enforcement law outside the U.S. Immigration and Customs building in Phoenix. Critics say the immigration law could encourage racial profiling against Hispanics. (PHOTO CREDIT: GETTY IMAGES)
FROM CNN's Jack Cafferty:
Americans are increasingly likely to name immigration as the top problem facing the country.
A new Gallup poll shows 10 percent of those surveyed cite immigration as the nation's most serious problem - that's up from two percent just one month ago. It's also the highest level Gallup has recorded in more than two years.
The poll also shows increased concern over immigration is highest in the West and among Republicans and conservatives.
This comes as the federal government considers suing over Arizona's tough new immigration law. Attorney General Eric Holder says possible grounds for the lawsuit would be that Arizona's law could lead to civil rights violations.
Did I get that right? We're talking about suing over something that hasn't even happened yet?
All this does is further muddy the issue. After all, it was the lack of federal enforcement of current laws that led Arizona to do this in the first place.
Meanwhile, as Arizona's longtime senator John McCain fights for re-election, he's all over the place on immigration. After years of criticizing a border fence, McCain now calls for completion of the "danged" fence.
It's difficult to know what John McCain believes anymore except that he is willing to say anything in order to to try to get re-elected - whether it conflicts with his earlier positions or not. He should lose the election just based on his willingness to sell out his principles. He didn't used to be this way.
Here's my question to you: What does it mean if the number of Americans citing immigration as the nation's top problem is the highest in two years?
Interested to know which ones made it on air?