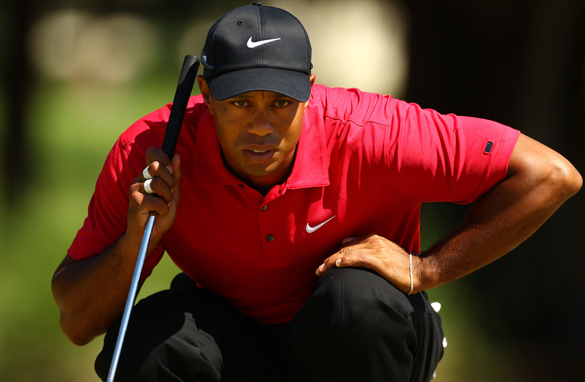 Tiger Woods lines up his putt on the second green during the final round of The Players Championship Sunday in Ponte Vedra Beach, Florida. (PHOTO CREDIT: GETTY IMAGES)
FROM CNN's Jack Cafferty:
Tiger Woods is no longer just about golf, regardless of what he says. His swing coach, Hank Haney, quit. Says he wants to move on. Woods won a third of the tournaments he entered and more than $51 million while Haney was his coach.
Nobody walks away from that kind of success unless he sees something the rest of us are beginning to.
Since Woods' so-called comeback, he has been less than stellar. Fourth at the Masters, missed the cut at Quail Hollow after shooting a second round 79 and quit in the middle of the fourth round of the Players Championship. Said he had a disc problem in his neck that had been bothering him since before the Masters.
But last Friday when he was asked about his health, he told a reporter he was 100 percent.
Like the details surrounding the Thanksgiving crash of his SUV, something is missing. And now the man who coached one of the greatest swings golf has ever seen, Hank Haney, is also missing. And suddenly Woods is noncommittal about playing in the U.S. Open in June.
When he was in rehab, he was forced to admit a lot of things that probably made him uncomfortable.
But when he returned to golf, the bravado was still there. The arrogance and impatience were still there. You could see him trying to mask it, but it was still there.
What was missing was the golf game. Granted when you're blessed with the kind of ability Tiger Woods has, it's probably too soon to count him out.
But there are growing signs Tiger Woods is a very long way from coming to terms with himself and his demons. And until he's able to do that, it's going to be a struggle.
I know. I have been there.
Here's my question to you: What can the rest of us learn from Tiger Woods?
Interested to know which ones made it on air?
David writes:
It's really easy, Jack. He's so busy trying to win back endorsements, put on the "humbled" face for the media, and avoid further humiliation that frankly he isn't focused on the game. Behind the scenes he's probably explosive to anyone around him and I'd imagine that's why Haney left. We expected some breakthrough – that after rehab maybe he'd be even better than he was. Let's face it: he's a human being who is not infallible. He'll be back, but the scars are going to show.
Audrey writes:
You can learn that if you are a non-white person, you are held to a higher standard. You have your soul-mate Argentina visiting governor, your Louisiana politician whore house visitor, your call girl governor of New York, your having a love baby wannabe presidential candidate, your parents paying off the mistress in Nevada and none of these received the media tear-down that Tiger Woods got and he is only playing a "sport" – it's not likely that he has your economic and social welfare at stake.
Eddy writes:
At this point, Woods is a walking textbook of what not to do and how not to act. I don't believe for a minute he has conquered his "demons" because his arrogance is too great. There is no humility in this man and no joy (on or off the course). He seems ruled by control and compulsions, never a good combination.
Greg writes:
He's done. If there was ever a sport where one negative emotion or fear can mushroom-cloud into physical inabilities, it's golf. Every time he puts a tee in the ground or lines up a putt, Tiger knows the eyeballs and cameras are on him...but for much different reasons than they were for the previous 30 years. He enjoyed the pressure and the stares when he was a young phenom shocking the golf world. Now the attention is much more negative
Mike in Harrisburg, Pennsylvania writes:
Jack, Watching Tiger disgrace himself reminds me of an interview with a mega-lottery winner who said, "Giving a few hundred million dollars to a morally weak person is like pouring miracle grow on weeds."