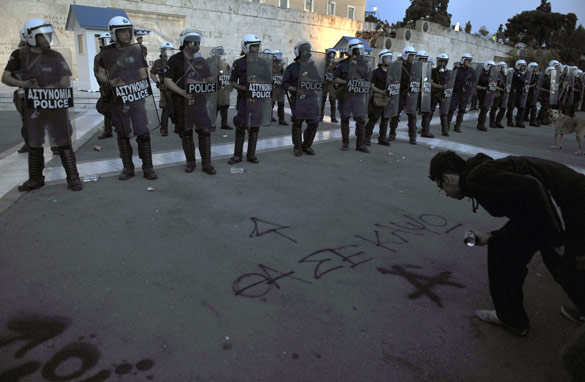 A youth spray paints "I will burn you" in Greek on the ground near a line of riot police in Athens. (PHOTO CREDIT: LOUISA GOULIAMAKI/AFP/Getty Images)
FROM CNN's Jack Cafferty:
If the fires and riots in Greece don't get Washington's attention, my guess is a 1,000-point drop in the stock market this afternoon might.
In less than an hour, the Dow Jones industrial average went from down a couple of hundred - to down almost 1,000 points - before rebounding.
The panic was triggered in part by Greece.
Greece is a world-class welfare state… People retire in their 50s and are accustomed to government handouts at every turn. Now the Greek government says "we're going to have to cut back," and people go crazy.
Here in the U.S. we have a growing welfare state: Food stamps, aid to dependent children, unemployment insurance, Medicaid, rent subsidies, welfare and millions of illegal aliens.
We have a $12 trillion debt that we're unable to pay. And while it ain't gonna happen tomorrow… at some point, we're going to be faced with the realization that we can't do it this way anymore. Something's gotta give.
When that day comes there will be cuts. Drastic, Draconian cuts.
Whether it leads to the kind of things we're seeing in Greece is probably a stretch. And we don't know that yet, but suffice it to say that when they start cutting… it's gonna make a lot of people unhappy.
The real tragedy is it's preventable. But no one in Washington has the guts to confront this issue head on.
It's the ultimate act of selfishness and betrayal: We are literally destroying the lives of Americans who haven't been born yet. Our children, our grandchildren and generations to come will suffer the effects of our irresponsible fiscal policy.
Look at Athens. Look at Washington. Do the math.
Here's my question to you: What lessons should the U.S. take away from what's happening in Greece?
Interested to know which ones made it on air?
Jim in Cranford, New Jersey writes:
Greece has put us all on notice. The welfare state is unsustainable. Time to take our medicine. The longer we wait, the more it will hurt.
Jimmy writes:
Jack, I think you are finally starting to understand what the Tea Party movement is really about. Problem is the current administration wants to head the country towards becoming "cradle to grave"… It means more votes.
John writes:
Greece was the world's first democracy. Now they are the perfect example of what can happen when everyone with a hand out gets a hand-out.
W. writes:
Jack, I think we'll definitely have cuts that will inflame the Baby Boomer generation. I already expect (at 27 years of age) to be working until I am 70, Social Security or not. I will have a better middle age because of improvements in health care and medical research, so I should be expected to work longer and harder than my parents planned for. The Latest Generation rested on the laurels of the Greatest Generation, and they have nobody to blame but themselves.
Martin writes:
At this point, it's a lost cause. No one is willing to give up entitlements for the fiscal good of the nation, nor is it anything but political suicide to merely propose taking them away. See you in the breadlines, Jack.
Keith writes:
Greece seems like a place I need to go to. A place where people stand up for what they believe in. Americans are being taken advantage of and are doing absolutely nothing about it. Bring on the revolution I say. Bring it on.
Jan in North Carolina writes:
For the entire history of mankind, Greece has led the way. Greek philosophy has shaped the entire Western thought since its inception. Take a look at Greece, there go we.