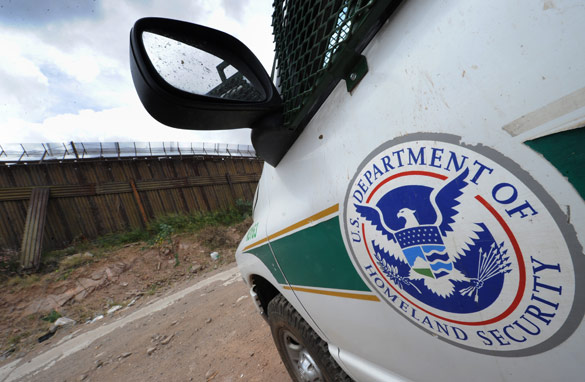 A Border Patrol vehicle keeps watch beside the border fence that divides the U.S. from Mexico in the town of Nogales, Arizona. (PHOTO CREDIT: MARK RALSTON/AFP/Getty Images)
FROM CNN's Jack Cafferty:
60 percent of Americans say Arizona's tough new immigration law is "about right" or "doesn't go far enough." Are you listening, Washington?
A new CBS News/New York Times poll shows 51 percent of those surveyed say the law is "about right" and 9 percent say it "doesn't go far enough." 36 percent believe the controversial law - which gives police broad powers to detain people they think are in the country illegally - "goes too far."
This new poll also shows broad majorities of Americans say illegal immigration is a "very serious problem" and that this country's immigration policies need a major overhaul... although people are divided about what the right solution is.
Even though most people think the Arizona law will result in racial profiling and overburden local police forces... large majorities think it will reduce the number of illegal aliens in Arizona, illegal border crossings and crime.
It's pretty clear what's going on here: The issue of illegal immigration has developed into a national crisis - and the American people have had a bellyful of the federal government's unwillingness to address it.
Despite all the rhetoric from our lawmakers, there is no legislation pending in Congress. But more importantly, almost nine years after 9/11 and four days after a terrorist tried to blow up Times Square in New York, the federal government refuses to secure this nation's borders.
Here's my question to you: What message does it send to Washington that a majority of Americans support Arizona's new immigration law?
Interested to know which ones made it on air?
Greg writes:
In my opinion, a majority of Americans supporting the new Arizona immigration law sends no message to Washington. I seem to remember that a majority of Americans did not want the recent health care bill to pass and it did anyway. It appears our opinion is no longer relevant.
Dave writes:
Most Americans probably supported the internment of Japanese immigrants during WWII. So what? Just because it's popular doesn't mean it's the right thing to do.
Bud in Washington writes:
The message? Enforce the law! If we have federal laws on the books to deal with people coming into the country illegally and those laws are considered ignored then the states should have a right to enact counter-measures to protect their own borders.
Darrell in Green Bay, Wisconsin writes:
Jack, I must be in the minority but I do not agree with such a one-sided bill. There are "two" laws that are being broken when illegal immigrants enter the U.S. and work. The first being their "illegal" entry and the second being "illegally" hired by U.S. businesses. Where is the anger and discontent with businesses that profit from this and don't employ American citizens?
Betsy in Tucson writes:
We live in Tucson and back this law because we cannot be safe on the interstate from Tucson to the border with illegal aliens being smuggled day and night - at high speeds and the wrong way. Plus we cannot feel safe in our nearby national park called Organ Pipe, with stashes of marijuana bales there and the smugglers too!
Ryan in Salt Lake City, Utah writes:
If you cross the border into North Korea illegally, you could get 12 years hard labor. If you cross the Afghan border illegally, you might get shot. When you cross the American border illegally, you get a job, a driver's license, free health care, a free education, freedom of speech, and Americans will spend billions of dollars so you can read a document in your native language.... What's wrong with this picture?