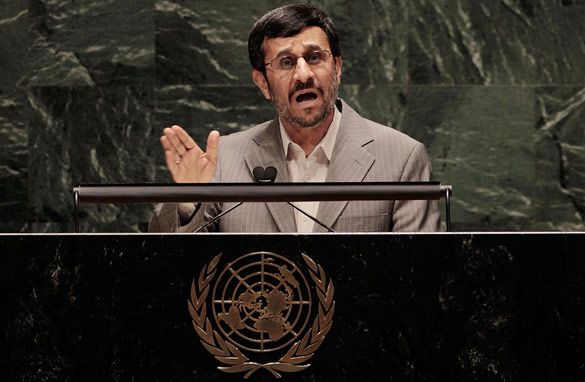 Iranian president Mahmoud Ahmadinejad addresses the delegation of the Nuclear Non-Proliferation Treaty (NPT) Review Conference today at the United Nations in New York City. (PHOTO CREDIT: GETTY IMAGES)
FROM CNN's Jack Cafferty:
The circus is in town at the United Nations today. The president of Iran is here in New York for an international summit on nuclear non-proliferation.
Delegates from the U.S., England and France walked out of the general assembly... as Mahmoud Ahmadinejad blasted America and Israel for possessing nuclear weapons. Ahmadinejad says countries that threaten to use atomic weapons should be punished - a direct reference to the Obama administration's new nuclear strategy.
The White House calls Ahmadinejad's speech predictable and full of "wild accusations"... and the UN is blaming Ahmadinejad for the standoff over its nuclear program.
Iran continues to insist it is enriching uranium for civilian energy. The west says they're developing nuclear weapons.
Ahmadinejad comes from a country that lives in its own world... ignoring reality and science - and blaming natural disasters on promiscuous women.
A top Iranian cleric claims women who wear immodest clothing "lead young men astray, corrupt their chastity... and spread adultery" which causes earthquakes.
Another senior government official says prayers and pleas for forgiveness are the best way to "repel" earthquakes.
The latest absurdity comes from the Iranian police who say they will put women with suntans in jail. This is all part of an effort to crack down on quote "social misbehavior" that violates Islamic laws.
We should be talking to these people about the origin of fire or why wheels are round.
Here's my question to you: Is there any reason to take Iran seriously in a discussion on nuclear weapons?
Interested to know which ones made it on air?