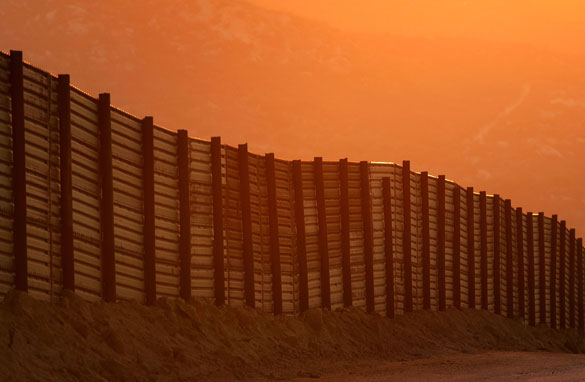 (PHOTO CREDIT: GETTY IMAGES)
FROM CNN's Jack Cafferty:
So Arizona passes a tough law against illegal immigration and suddenly they get Washington's attention.
One poll finds 70 percent of Arizona voters support the new law... hey, maybe we better do something too. So like the lemmings they are when they smell a chance to score political points... and some of them need a lot of help with the midterms approaching - there is talk now of rushing immigration reform through Congress.
President Obama called the Arizona law "misguided." What is misguided, Mr. President, is the federal government's refusal to enforce the laws already on the books. Read the Arizona law... parts of it are word-for-word the same as the federal laws - which continue to be ignored.
Now we'll hear all sorts of blathering from our Washington gerbils about the need for a new federal law. There will be press conferences, interviews, committee hearings, draft legislation, polling... all the usual carnival acts that accompany any hot-button issue in Washington, DC.
Instead of simply closing the borders and enforcing the existing law so that they could turn their attention to something like the national debt and the fact that the country is bankrupt, we will get this freak show.
Washington's position on illegal immigration is dishonest from the top down. No enforcement. No border security. Just pandering to the Hispanic voters and the corporations that hire the illegals.
But when one of our states that is being ravaged by the presence of 460,000 illegal aliens inside its borders does something about it, the president says that's "misguided."
What a shame.
Here's my question to you: Will the federal government ever enforce our immigration laws?
Interested to know which ones made it on air?
Peter writes:
Jack, I agree with your opinion. The federal government shows total disregard for existing immigration laws. When a state, saddled with the costs of illegal immigration, tries to do something, then it is labeled "misguided." So now the federal government would like to change the laws to fit the crime and labels it "reform." No wonder people have so little faith in our government.
Allison writes:
I couldn't agree more! Thank you for speaking up for the 70% of Arizonans who support this law. My parents live in Arizona and have had their car stolen out of their driveway by illegal immigrants, and their house has been broken into 3 times in the last two years by illegal immigrants. When we are more afraid of offending someone by asking for their ID or legitimate papers, we sanction crime and fail to protect the average American.
Steve in Hawaii writes:
Jack, Only after dirty bomb detonation #3 or #4.
Ron in Phoenix writes:
As a resident of Arizona, I know we have already decided that the federal government was never going to enforce the federal law, so we took it upon ourselves to make our own law.
Chuck writes:
No. There's pretty much no way to enforce them without profiling, and everyone's too scared to do it, for fear of losing votes. Maybe letting states deal with it on their own is a good idea. Let's see how it works in Arizona. Seems like a good place to test it.
T. writes:
Obama's talk about Arizona's law being "misguided" is just a smoke screen for the amnesty he and other liberals want to give illegal aliens. They'll call it something else, of course, and claim that illegals will have to "go to the back of the line" and learn English, and a host other lies. In the end, it'll be the 1986 debacle all over again.
Bob in Houston writes:
Nothing will be done to seriously halt illegal immigration while Obama is president. Congratulations to the governor of Arizona. I only hope that Texas will be next.