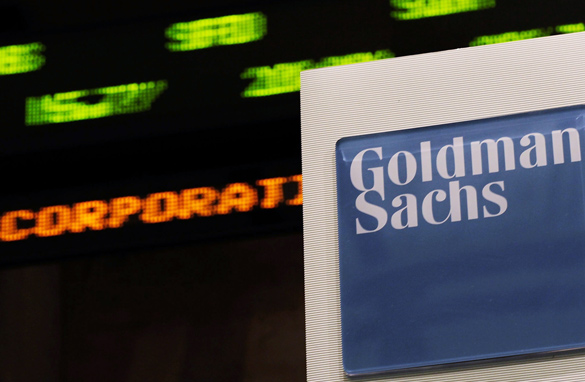 Goldman Sachs was charged with fraud by the Securities and Exchange Commission over its marketing of a subprime mortgage product, sending its stock price sharply lower. (PHOTO CREDIT: GETTY IMAGES)
FROM CNN's Jack Cafferty:
Wall Street may be enemy number one for President Obama and the Democrats these days; but things get complicated when you look at how corporate America has lined their pockets.
Let's start at the top - the president received nearly $1 million in campaign contributions from Goldman Sachs. That would be the same Goldman Sachs that the government is now accusing of civil fraud tied to those subprime mortgage investments.
Federal law prohibits a company from giving directly to an election campaign; so this money came from Goldman's political action committee and employees. The $1 million represents the president's second largest contributor... and these donations from Wall Street's top investment bank to Mr. Obama were more than four times what they gave to John McCain.
But in light of these allegations against Goldman - and as Mr. Obama and the Democrats push hard for financial reform - maybe the president should consider returning this money. As a candidate, Barack Obama made lots of lofty promises about not being beholden to special interests. here's a chance to prove he meant them.
Of course - it's not just the president. Records show in the 2008 election, three out of every four dollars given by Goldman went to Democrats. And since then? The company has contributed generously to the members of the congressional committees that have oversight of the financial industry. Sadly it's the way the game is played.
The big corporations in this country own our government - lock, stock and barrel. Our so-called representatives sell their souls for campaign contributions... and when it comes time to pick a side, the corporations or the people they are elected to represent, guess which side they most often choose.
Here's my question to you: Should Pres. Obama return the nearly $1 million in campaign contributions from Goldman Sachs?
Interested to know which ones made it on air?
Simon in Orlando writes:
You bet. I guess the "change we can believe in" went into his pocket. How can we believe that he will support any meaningful changes on Wall Street when he has taken that much money from just one company? How much did he get from the others?
Tom in Arlington, Virginia writes:
Goldman Sachs and their employees are free to give their money to whatever political candidates they want, and maybe they gave to President Obama's campaign because they wanted to have some sway in his administration. The recent fraud investigation into their practices has made one thing clear: they don't.
Maria in Brunswick, Maryland writes:
No, he shouldn't. He should put the money toward the national debt. That would make Goldman Sachs weep like babies. Or Obama should give it to a specified list of non-profits, or apply it to greening the government buildings and vehicle fleets. But nothing should go back to Goldman Sachs.
Brandon in Colorado writes:
Is this really a conflict of interest? Obama received $1 million in campaign funds from Goldman, but how much did he receive from other sources? A million dollars isn't exactly a game changer in the United States economy today.
John in San Antonio writes:
He should, but don't look for the CEO of the U.S. Government, Inc. to do anything to upset its parent corporations.
Travis in San Diego writes:
I am stunned on a daily basis that any individual in this country thinks that they are being represented by the "elected officials" at any level of government. These people take money from anyone only to get elected and hold onto their power. I am ashamed at the masses for being so gullible.
Joe in Minneapolis writes:
If Obama isn't a hypocrite, he will return the money. If Obama is a hypocrite and keeps the money, what did it buy?