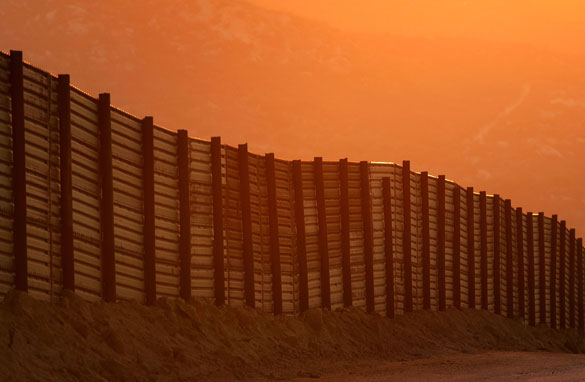 (PHOTO CREDIT: GETTY IMAGES)
FROM CNN's Jack Cafferty:
The people of Arizona are fed up when it comes to illegal immigration. And they ought to be.
Almost one in five of those caught trying to enter the state illegally from Mexico has a criminal record.
It's one reason why Senators John McCain and John Kyl are calling for 3,000 National Guard troops to be deployed to Arizona's border with Mexico.
They also want federal funding for an additional 3,000 U.S. customs and border agents, a double-row border fence, increased mobile surveillance and hardship duty pay for border patrol agents.
But it's not the only reason... at least for McCain. Can you tell he's in danger of losing his Senate seat this November? Where have all the clowns in Washington been on this issue since 9/11? Virtually nothing has been done to secure the nation's borders... because Democrats want the Mexican vote and Republican donors want the illegal aliens to work for them.
President Obama insists his administration is committed to securing the borders and has taken "unprecedented" steps over the past 14 months. What a load.
The fact is it's unlikely anything will be done about illegal immigration now that we're in an election year for the reasons laid out above.
But Arizona is taking measures into its own hands. The state Senate has passed a tough immigration bill that would force police to arrest people who can't prove they're in the country legally.
Critics say it would lead to racial profiling. So what? The state's governor has five days to veto the bill or sign it into law.
Here's my question to you: What should be done about border security if almost 20 percent of illegal immigrants entering Arizona from Mexico have criminal records?
Interested to know which ones made it on air?