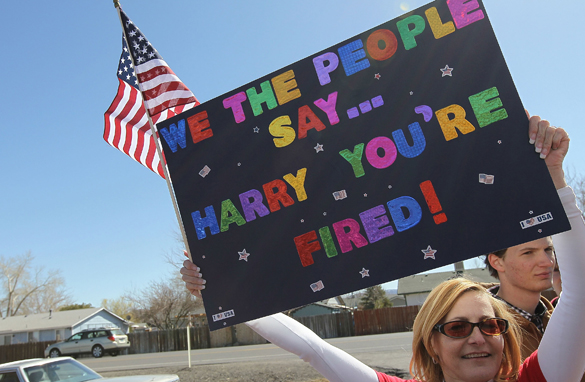 An opponent of Sen. Majority Leader Harry Reid (D-NV) protests outside a campaign event in Fernley, Nevada. Reid is lagging in polls following passage of the controversial health care bill that Pres. Obama signed into law. Reid is bidding for a fifth Senate term. (PHOTO CREDIT: GETTY IMAGES)
FROM CNN's Jack Cafferty:
Incumbents may want to take note:
Senate Majority Leader Harry Reid is trailing the Republican front-runner in Nevada by double digits.
The Mason-Dixon poll conducted for the Las Vegas Review-Journal shows Republican Sue Lowden getting 47 percent of the vote... compared to 37 percent for Reid. The poll also includes a slate of third-party and other candidates, who get very little backing.
Reid has been in trouble in his home state for awhile now. His campaign had always argued that the presence of third party candidates distorted the real picture. Reid claimed when the election was held these minor party candidates would split the vote and he would still win.
But this poll suggests adding the minor candidates into the mix doesn't really "bleed support" away from the Republican. Experts suggest voters rarely choose third-party candidates in closer races with high stakes... because they don't want to throw away their vote.
Reid's people still sound confident that the senator can win a fifth term - what else are they gonna say. Another recent poll shows the senate majority leader with an unfavorable rating of 56 percent in Nevada. The people in his own state can't stand him.
And it's not just Reid who might be in trouble. People are increasingly angry about their government and are likely to take it out on incumbents come November. Let's hope they do.
Here's my question to you: What message does it send to incumbents if Sen. Majority Leader Harry Reid is trailing by double digits in his home state?
Interested to know which ones made it on air?
John in Flagstaff, Arizona writes:
Reid tried to shift too far to the right to make the Republicans happy with the health insurance reform bill, and he lost the American people in the process. And he didn't get any Republican votes anyway.
Richard in Texas writes:
This may be an omen of things yet to come, Jack. It has happened already in Massachusetts and it could sweep across America the same way. I think America is getting tired of the good old boys and girls system and are ready for some new blood in the political gene pool. Hopefully this time some people with ethics and a spine.
Rob writes:
Jack, The message is clear: Harry's getting a helmet strapped on his head, and is being launched out of Washington along with the rest of his deadbeat friends running our country.
David in Las Vegas writes:
It shows real anger at all incumbents and unfortunately lack of common sense in Nevada. If we don't re-elect Harry Reid, we'll have one freshman senator with no influence and one disgraced senator who should resign.
Lynda in North Carolina writes:
The message I hope it sends is that if term limits aren't enacted we voters will create them by voting all the incumbents out when their time is up – and for most of the career politicians sitting in D.C. that time has long passed!
Sara writes:
John McCain is trailing in the polls as well. Maybe you should ask what that says about HIM! He was the runner-up for president after all!
John in Colorado writes:
I doubt Harry Reid's problems transfer to the other Democrats running for re-election. He has an unfortunate gene malfunction that causes him to appear on television as a person born without a personality. For most of us who don't know him, we doubt he can even fog a mirror, let alone be a U.S. Senator. He is probably much better than that - it just doesn't show.