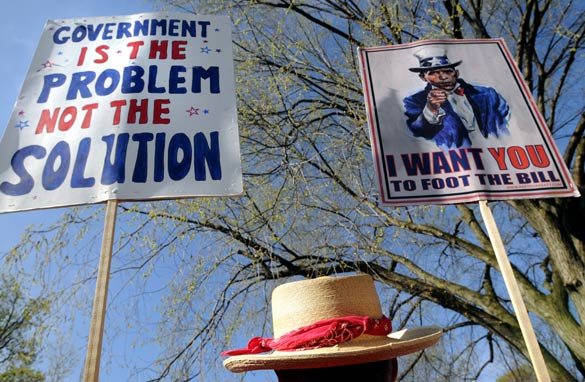 Tea Party members holds signs during a rally in Boston. The Tea Party Express' tour through the United States ended in D.C. on tax day. (PHOTO CREDIT: GETTY IMAGES)
FROM CNN's Jack Cafferty:
Hating the government has finally gone mainstream...
That's according to a piece in the Washington Examiner by political editor Chris Stirewalt:
"After two wars, a $12 trillion debt, a financial crisis and the most politically tone-deaf president in modern history, Americans may have finally given up on big government."
Stirewalt writes how three years ago the Republican establishment pretty much disregarded presidential candidate Ron Paul... but not anymore. The Texas congressman is gaining some serious support - along with his son, Rand, an ophthalmologist with no political experience, who may have a real shot at a Senate seat in Kentucky.
Stirewalt suggests that the American people are sick of watching everyone from the big banks to united auto workers drain the U.S. treasury. He believes that both Democrats and Republicans have misjudged the mood of the public.
It is of course the Tea Party movement that represents much of this angst and anger at big government, record spending and deficits... and higher taxes. Last year, the Tea Parties caught nearly everyone by surprise... but now the two major political parties and the media are tuned in.
But, Stirewalt says the real meaning of these protests isn't about a politician like Ron Paul or even the activists marching with "don't tread on me" flags... instead it's about the people at home who might agree with their message... and there are potentially lots and lots of them - with polls showing that nearly one-third of Americans consider themselves Tea Party supporters.
Here's my question to you: Do you hate the government?
Interested to know which ones made it on air?
Chuck writes:
Government at all levels is becoming increasingly onerous, to the point of being downright abusive in its quest for money. The root cause is the elected officials that pander to their constituencies by voting for increasingly more expensive programs, benefits and entitlements… I am at the point that I will vote against any incumbent regardless the party.
Steve writes:
Yes, I do.
Jam writes:
Hate the government? Move to Somalia, they don't have a government. It's a capitalist utopia. No taxes – but no public works, transportation, police, schools, medical care, etc. No military either, just militias. The perfect place for a government hater.
Judy in Arizona writes:
Hate is a pretty strong word. I don't hate it; I am just tired of those less than 1,000 people who are making the decisions for millions displaying a superiority attitude that says the American public is stupid and couldn't possibly know what is good for us.
Johnson writes:
I don't hate the government, I hate Democrats and Republicans. The Tea Party people aren't helping either. When did this country lose its common sense?
Regina writes:
No, I don't hate the government. It is made up of you and me. The path it is on, a path determined by well-meaning decision with unanticipated consequences, is wrong. WE need to fix what WE have done. Reduce the size of the government, reduce the scale of entitlements, reduce the federal footprint over states' rights. I'm 39 years old, and have been apolitical all my life, but not anymore. It is too much.
Lee writes:
Love my country; the government can go to hell.