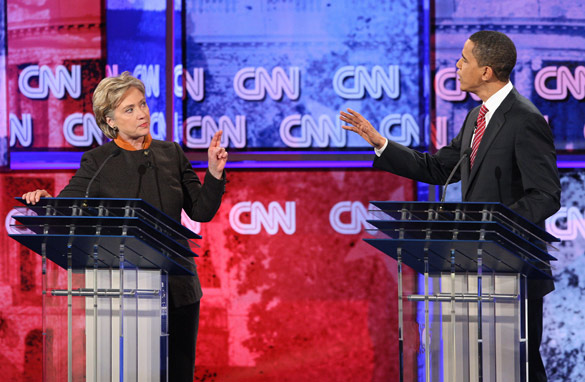 Clinton and Obama exchange comments during the Democratic Presidential Primary Debate in 2008. (PHOTO CREDIT: STAN HONDA/AFP/Getty Images)
FROM CNN's Jack Cafferty:
It could be the greatest of rematch of all time.
Hillary Clinton and Pres. Barack Obama nearly tore the Democratic Party apart two years ago. What if they go at it again in 2012?
A new CNN/Opinion Research Corporation Poll shows Secretary of State Hillary Clinton with a favorable rating of 61 percent and an unfavorable rating of 35 percent...
Clinton's numbers have improved since the 2008 primaries... and she fares better than Pres. Obama, who gets a 57 percent favorable rating; but his job approval rating is below 50 percent in most of the major polls. Obama's unfavorable rating of 41 percent has more than doubled since early last year.
There's more: Clinton's numbers also top all other Democrats and Republicans in this poll... including potential GOP presidential candidates like Mitt Romney and Mike Huckabee.
Clinton insists she's "absolutely not interested" in running again for president... although she has suggested that she doesn't envision serving as Secretary of State in a second Obama term.
Of course a lot can happen between now and 2012... including whatever Pres. Obama does or doesn't accomplish in the remainder of his term. If the economy recovers and the jobs come back, he could be tough to beat. But as of right now, one survey shows a majority of Americans don't think the president deserves a second term.
And when it comes to politics, it's probably wise never to count a Clinton out.
Here's my question to you: Should Hillary Clinton challenge Pres. Obama in 2012?
Interested to know which ones made it on air?
Dave writes:
I don't think that Hillary Clinton should run against Barack Obama in 2012. If things look bad for our president, I anticipate he may decide not to run again. Mrs. Clinton would be just the person to step up in that situation.
David writes:
Terrible idea. It would just create a huge divide among Democrats and invalidate Obama's term in office.
Adam writes:
Jack, I supported Hillary during the '08 Primaries, and I voted for Obama in the general election. However, given the opportunity, I would not hesitate to support Hillary Clinton again. Only time will tell if I will get that chance.
C. writes:
Absolutely! She is much more capable of leading the country in these tough times. Although Obama seems to be trying, he hasn't been able to accomplish very much at all, most likely due to his inexperience. I say if it takes a primary challenge in the party to straighten out the mess we are in, do it.
Jonique writes:
No, I do not believe Hillary would challenge President Obama, since you asked. My question is to you: Why would you ask such a question in the first place? Do wish for an Obama failure? You are mighty hard on a person who has been in office for such a short time. What is your agenda?
Lene writes:
I don't think America has to go through that again. People have short memories. Clinton had her issues, like the campaign donations and the sniper fire lie and now she is put on a pedestal. This makes about as much sense as Sarah Palin running for president.
Gerry in Ash Fork, Arizona writes:
Both are hell-bent on turning this country into a socialist nation. I'd have to find some wacky right-wing yoyo that believes in America first.