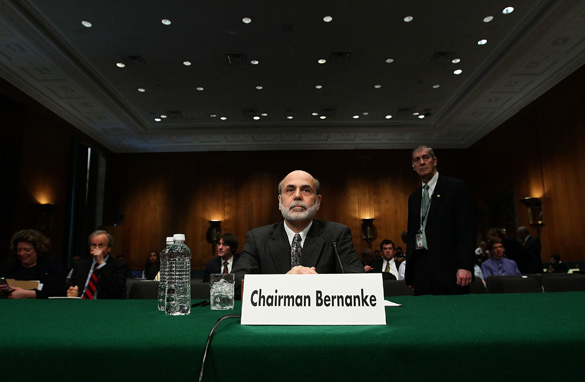 Federal Reserve Board Chairman Ben Bernanke testifies before the Joint Economic Committee in Washington, DC. Bernanke testified before the full committee today on the topic of 'The Economic Outlook.' (PHOTO CREDIT: GETTY IMAGES)
FROM CNN's Jack Cafferty:
Even though the economy is showing signs of recovery, Congress is on track to extend unemployment benefits for the fourth time since the recession began more than two years ago.
The measure, now making its way through the Senate, would allow the jobless to receive up to 99 weeks of unemployment checks - that's almost two years.
Democrats insist that times remain tough. They say Republicans, who are opposed to the measure, are "inhumane" and lack compassion.
But Republicans say they're worried about the price tag - about $7 billion a month - which will only add to our skyrocketing national debt. They want to pay for the measure with spending cuts in other parts of the budget.
Fed Chairman Ben Bernanke predicted this morning that our national debt will double to $20 trillion or 100 percent of our gross domestic product by 2020.
We're killing ourselves.
There's also another component to this: The longer unemployment benefits are extended, the longer the jobless have an incentive not to work. Studies show many unemployed workers don't start seriously looking for a job until their benefits are about to run out.
In fact, some say the scope of the Obama administration's entitlement programs is leading to a two-class society: The "haves" who are bankrolling the "have-nots."
Conservative activist Phyllis Schlafly writes that the president is transforming the nation by "converting the earnings of American workers into handouts" for those who voted for him.
As we reported in the Cafferty File earlier this week - 47 percent of American households won't pay any federal income taxes this year... in other words, the U.S. has become a country where only half of us are paying for the services that are used by all of the U.S.
Here's my question to you: Can America survive without the disappearing middle class?
Interested to know which ones made it on air?
George writes:
I'm a pretty liberal person, I vote Democrat and I still like Obama. That being said, I think extending unemployment for a two year stretch is ridiculous... I don't think people in this country should go hungry or homeless, but just giving people a two year paid vacation is unethical and also unfair to the people who are paying for it.
Ted in San Diego writes:
Throughout history, weakness in the middle class has been associated with the eventual development of political instability. That may not apply to the U.S. just yet, but at the very least, stubbornly high unemployment and a large debt will soon lead to serious stagnation on many levels… There is no question that unless we act soon to substantially reduce our debt, the nation faces permanent, significant damage.
Seth writes:
First we sent most of our manufacturing jobs overseas, then many of the service jobs. It's called "outsourcing." These jobs were once the gateway to the Middle Class. There is an instant solution to the jobs crisis: outlaw all outsourcing. It's strange that no politician has even (to my knowledge) mentioned this possibility. I wonder why?
Dano writes:
I'm fairly liberal-minded, but I've been having some of these same thoughts: At what point do perpetual unemployment checks become welfare?
David in Maryland writes:
You know the answer or you wouldn't be asking the question. This spending is unsustainable, yet it shows no sign of stopping. This administration is now just buying votes using taxpayer money.
Arthur writes:
Mr. Cafferty, It is tough enough out here for those of us looking for employment without you inferring that some of us are happy living on our unemployment benefits. I have averaged over $100,000 per year over the last 10 years and I assure you that I for one am not sitting around waiting for my benefits to expire. Are there any openings at CNN?