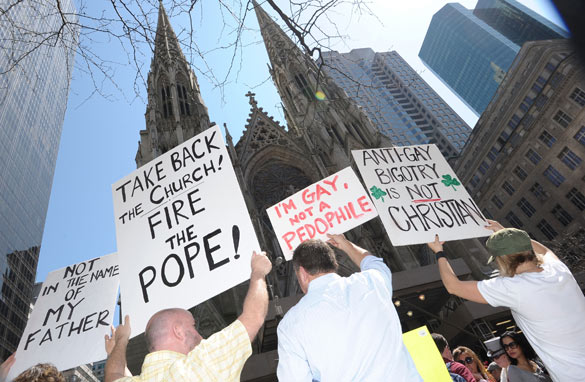 Protesters demonstrate outside St. Patrick's Cathedral in New York. (PHOTO CREDIT: GETTY IMAGES)
FROM CNN's Jack Cafferty:
The Vatican claims to have it all figured out when it comes to the sexual abuse of children at the hands of priests in the Catholic Church.
The pope's number two - Vatican Secretary of State Cardinal Tarcisio Bertone - insists the abuse is linked to homosexuality... and not celibacy.
Gay rights groups are outraged - saying it's a "perverse" strategy by the Vatican to "shirk its own ethical and legal responsibility"... and they're right.
To top it off - this official made the ludicrous claim in Chile, where one pedophile priest had sex with young girls - impregnating at least one teenager. One of his victims says when she told priests about the abuse at confession "they just told me to pray and that was it."
Meanwhile - as the church says it's overhauling its rules on how it handles accusations of sexual abuse, the Associated Press may have a smoking gun that proves Pope Benedict refused to do anything about this when he had the chance.
They report on a letter written in the 80s by then-cardinal Ratzinger, in which he resisted pleas to defrock a California priest who had sexually abused children. After sitting on the request for several years, Ratzinger eventually did nothing - instead asking the Oakland bishop to consider the "good of the universal church."
It eventually became the eleventh commandment in Catholicism: "Protect the church at all costs - to hell with the children."
Here's my question to you: Is the sexual abuse of children in the Catholic Church linked to homosexuality?
Tune in to the Situation Room at 5pm to see if Jack reads your answer on air.
And, we love to know where you're writing from, so please include your city and state with your comment.