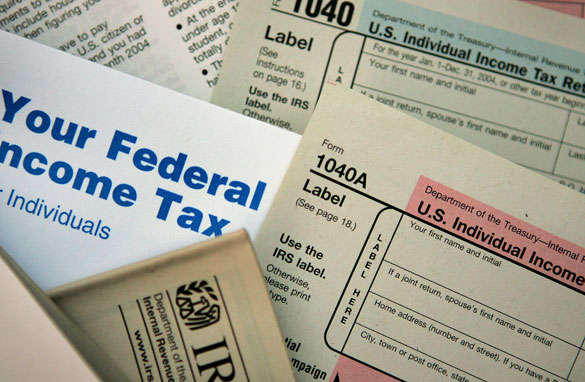 (PHOTO CREDIT: GETTY IMAGES)
FROM CNN's Jack Cafferty:
Tax Day is around the corner - but it turns out that millions of Americans don't dread the April 15 filing deadline much at all:
That's because 47 percent of U.S. households will pay no federal income taxes for 2009. That's right - almost half of Americans will pay nothing.
So what we have in effect is roughly half the households paying the tax load for the whole country. One Washington research group says it's either because people's incomes are too low or they qualify for enough credits, deductions and exemptions.
In the past few years, credits for lower income families have grown so much that a family of four - with two children younger than 17 - making $50,000 will pay no federal income tax for last year. Nothing.
We now live in a country where half of the people aren't paying for the government services and programs that benefit everyone - that includes national defense, public safety, infrastructure and education. It's estimated that the wealthiest 10 percent of Americans pay about three-quarters of the income taxes collected by the federal government.
Under President Bush, the nation's wealthiest taxpayers got big tax breaks; but President Obama has been pushing tax cuts for poorer Americans and tax increases for the wealthiest.
Everyone gets hit paying lots of other taxes... things like federal payroll taxes and excise taxes on gasoline, alcohol and cigarettes - as well as state or local taxes. But when it comes to the government's biggest source of revenue - the federal income tax - almost half of all American households pay not one thin dime.
Here's my question to you: Is it right that almost half of American households pay no federal income taxes?
Interested to know which ones made it on air?
Mark writes:
I believe everyone should pay something. As it stands today, half the people in the country have no reason to vote against tax increases. The tax-paying half of the population will have difficulty in stopping a proposed increase that has no effect on half the nation.
Monica in North Carolina writes:
I take all the deductions and credits I'm entitled to, without apology, but I sure am carrying more than my fair share of the federal tax load if this is accurate...and I don't make enough money (yet) for me not to feel any pain when I have to pay my taxes.
Alan in New Mexico writes:
I feel like most of the people who aren't paying taxes can barely afford to get by. I know that my tax refund went straight to rent and bills this year.
Jim writes:
Jack, This is a perfect example of why the Fair Tax is the answer to our unenforceable and complex tax code. The Fair Tax is collected at the cash register. If someone makes a purchase, they pay the tax. The other benefit is that under the Fair Tax proposal, all payroll tax deductions will disappear. If you make $12 an hour, you get all that money in your check, no deductions.
Cathy in Alabama writes:
Jack, It's disgusting that half the people are paying for the other half. Benjamin Franklin said, "When the people find they can vote themselves money, that will herald the end of the republic." It is generally the Democrats that keep promising people more and more services for "free", hence buying the votes of huge groups of people with the money of others.
Kevin in California writes:
The question should be: Is it right that almost half of American households now make so little that they aren't subject to taxes?
Gary in Scottsdale, Arizona writes:
Depends upon your perspective, Jack. If you're part of the 50% who pay no taxes, it's not only right – it's an evolving privilege provided by a great nation to its wretched, downtrodden masses. However, if you're on the other side of the coin – the side paying the bill – you're simply being screwed and you don't even get a kiss as it's happening. Now, that's just not right.