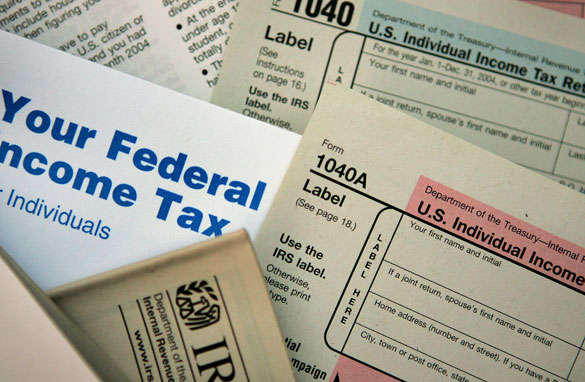 (PHOTO CREDIT: GETTY IMAGES)
FROM CNN's Jack Cafferty:
Tax Day is around the corner - but it turns out that millions of Americans don't dread the April 15 filing deadline much at all:
That's because 47 percent of U.S. households will pay no federal income taxes for 2009. That's right - almost half of Americans will pay nothing.
So what we have in effect is roughly half the households paying the tax load for the whole country. One Washington research group says it's either because people's incomes are too low or they qualify for enough credits, deductions and exemptions.
In the past few years, credits for lower income families have grown so much that a family of four - with two children younger than 17 - making $50,000 will pay no federal income tax for last year. Nothing.
We now live in a country where half of the people aren't paying for the government services and programs that benefit everyone - that includes national defense, public safety, infrastructure and education. It's estimated that the wealthiest 10 percent of Americans pay about three-quarters of the income taxes collected by the federal government.
Under President Bush, the nation's wealthiest taxpayers got big tax breaks; but President Obama has been pushing tax cuts for poorer Americans and tax increases for the wealthiest.
Everyone gets hit paying lots of other taxes... things like federal payroll taxes and excise taxes on gasoline, alcohol and cigarettes - as well as state or local taxes. But when it comes to the government's biggest source of revenue - the federal income tax - almost half of all American households pay not one thin dime.
Here's my question to you: Is it right that almost half of American households pay no federal income taxes?
Interested to know which ones made it on air?