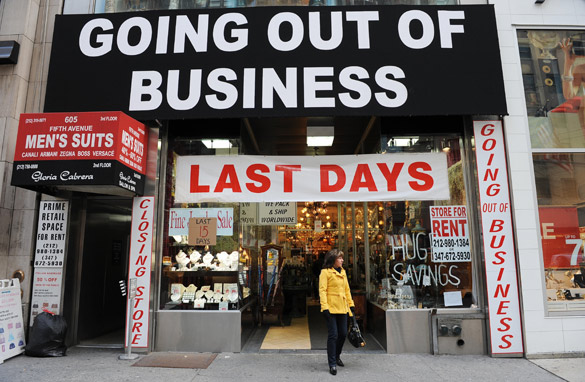 (PHOTO CREDIT: STAN HONDA/AFP/GETTY IMAGES)
FROM CNN's Jack Cafferty:
Things are still bad in the U.S. - but not nearly as rotten as they were a year ago. At least that's the headline from a new national survey.
The CNN/Opinion Research Corporation Poll shows 67 percent of those surveyed say things are going badly in this country... but that's down 10 points from a year ago. 32 percent now say things are going well.
The poll indicates optimism appears to have peaked last November - when 37 percent of Americans said things were going well.
As you might expect, this survey also shows a big partisan divide... With a Democratic president and Congress in charge, half of Democrats say things are going well... compared to just a quarter of Independents and even fewer Republicans.
With the national unemployment rate at just under 10 percent - jobs remain the top issue on many Americans' minds. And even though the economy is showing some signs of turning the corner… just today the Chairman of the Federal Reserve, Ben Bernanke, said we still face a long road toward recovery:
"We are far from being out of the woods."
Bernanke highlighted unemployment, along with home foreclosures and weak bank lending as reasons why the economy will take time to rebound. But he said he's optimistic employment will slowly decline throughout the year, which should increase optimism for consumers.
Here's my question to you: Do you think things in the U.S. are better or worse than one year ago?
Interested to know which ones made it on air?
Kim in Hickory Hills, Illinois writes:
Jack, One year ago we were talking about the Great Depression 2.0. We are now talking about how many jobs were created in March. Jack, let's be realistic: We were starving one year ago, now we're simply hungry. Of course we are better off. We have a lifeline unless we get amnesia and put the bankrupt Republicans back in office.
Mark writes:
Nothing has been accomplished in this country other than expanding the size of our wasteful government. I think we are currently about the same, but the future is grim!
Eric in New Jersey writes:
Jack, I'm in banking and I deal with hundreds of business owners. I can say with certainty that the consensus is that business is up, profits are returning, but not enough to start hiring people back yet. The economy is headed in the right direction, but it seems Wall Street is moving at lightning speed while small businesses are the "lagging indicator".
Jerry in North Carolina writes:
Jack, Here in North Carolina, it still seems about the same: Jobs still going to illegal immigrants. Taxes always and still on the rise, especially for small businesses. What, they don't think we notice? And how about them gas prices?
Mike in Tampa writes:
Jack, I just drove 500 miles of back-roads. I have never seen so many closed businesses. Depressing. Things are definitely worse.
Lorraine in Abingdon, Maryland writes:
I'm still unemployed, but I'm seeing more job postings. More people seem to be buying and selling.
Bob in Kansas City, Missouri writes:
It depends on how far you went to hit bottom last year. Wall Street was hurting, so by that standard we're better. But it's Main Street that has born the brunt of the irresponsibility that got us to this point. That's the opinion that counts.