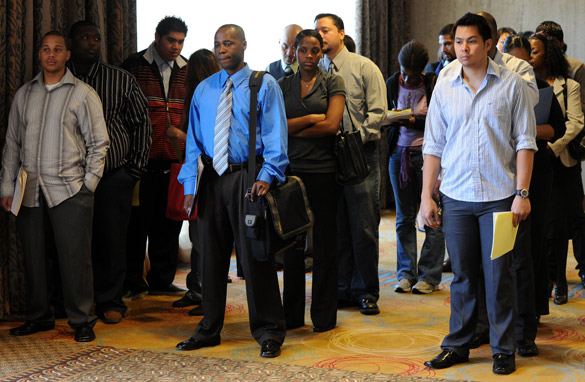 Unemployed Americans line up to speak with prospective employers at the Los Angeles Career Fair on March 23, 2010. (PHOTO CREDIT: MARK RALSTON/AFP/Getty Images)
FROM CNN's Jack Cafferty:
"Shockingly" and "unacceptably" high... that's how a top Obama economic aide describes the unemployment rate for minorities in this country.
He's got a point. The jobless rate for whites in the United States in March was 8.8 percent. For blacks it was nearly double - 16.5 percent; and for Hispanics 12.6 percent. These unemployment rates increased for both minority groups from the previous month - while it stayed steady for whites.
Officials say minority unemployment is so high because of a drop in certain sectors of the economy - like construction and manufacturing.
The State of Black America report from the National Urban League is calling on the president to push for a so-called jobs surge for hard-hit minority communities.
The report expects to see continuing high unemployment in the short term. It says these high jobless rates are unacceptable when the government just spent tons and tons of money bailing out the banks and auto companies.
The National Urban League recommends spending an additional $150 billion for direct job creation in the hardest hit communities... with a goal of creating three million jobs.
They're also pushing for spending several billion more to hire as many as five million teens in inner-city areas as part of a summer jobs program.
Here's my question to you: Why is unemployment among blacks and Hispanics significantly higher than among whites?
Interested to know which ones made it on air?