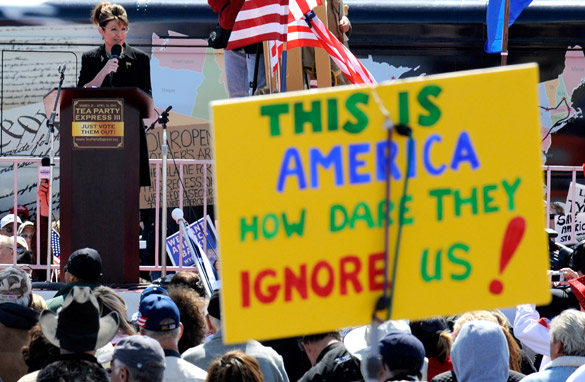 Former Alaska Gov. Sarah Palin speaks at the Tea Party Express' "Showdown in Searchlight" rally March 27 in Searchlight, Nevada. The rally, held in the hometown of U.S. Senate Majority Leader Harry Reid (D-NV), serves as the kickoff for a 42-city bus tour that ends in D.C. April 15. (PHOTO CREDIT: GETTY IMAGES)
FROM CNN's Jack Cafferty:
It's about time. The American people may have finally had it with both Democrats and Republicans... and might just start seriously considering another option.
A new USA Today/Gallup poll shows for the first time, the two major political parties are viewed unfavorably by most Americans. What's more - the Tea Party movement's favorable rating of 37 percent is nearly as high as the 41 percent for Democrats and 42 percent for Republicans.
This means the anti-tax, anti-big government movement that's only about one year old is ranking almost as high as these political machines that have been around for a couple hundred years.
The same poll shows 28 percent of all adults call themselves supporters of the Tea Party... more than a quarter of Americans is nothing to sneeze at. When it comes to their politics, Tea Party supporters mostly lean Republican and conservative. They're also more likely to be male and less likely to be poor.
But in many other areas, Tea Partiers are representative of the general public - including their age, education, employment status and race. And whether it ultimately comes from the Tea Party or not, it could finally mean some real competition for the 2 major parties, which have long since ceased to give much of a damn about American citizens.
Meanwhile an article in the British Newspaper "The Telegraph" suggests that with Americans so disgusted with their politicians, a real outsider is needed in the White House. They say no one stands out like General David Petraeus, head of U.S. Central Command.
Petraeus emphatically denies any interest in being president... but then again, so have lots and lots of other future candidates.
Here's my question to you: What does it mean when the Tea Party movement has a favorable rating almost as high as the Democrats and Republicans?
Interested to know which ones made it on air?