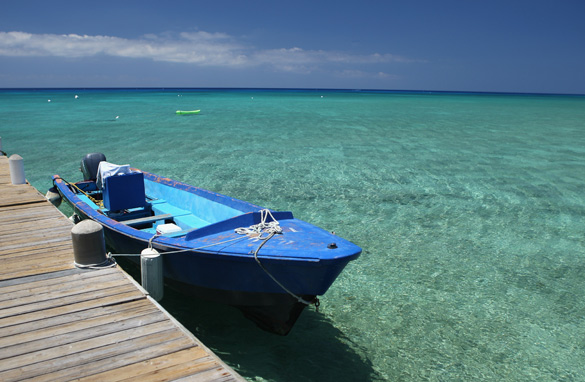 (PHOTO CREDIT: GETTY IMAGES)
FROM CNN's Jack Cafferty:
If you could have any job, what would it be?
An Irish travel agency is offering the latest in a series of dream jobs.
Get this: The company RunawayBrideAndGroom.com is looking for "honeymoon testers" - a couple willing to travel around the world for six months and get paid to test out the most romantic wedding and honeymoon destinations.
More than 1,000 couples have already applied.
The so-called job will send them to resorts in Africa, Europe, Asia and the U.S.
The winners will have to blog about their experiences... and write for the Irish Times once a month.
The job pays around $27,000.
The deadline is April 7th... so you still have a few days left to apply.
Australia's tourism bureau started this whole dream job craze last year... when it was looking for someone to fill the so-called "best job in the world."
The winner made $140,000 to spend six months on an island in the Great Barrier Reef and blog about it.
The tourism agency got more than 34,000 applicants... not to mention tens of millions of dollars in free publicity.
There have been other similar campaigns too... like one in Florida where a couple was paid to spend several weeks visiting every theme park and attraction in Orlando and write about it; and another sponsored by a California company - looking for someone to be its "wine country lifestyle correspondent."
So - on a Friday evening.... all this got us dreaming ...
Here's my question to you: How would you describe your dream job?
Interested to know which ones made it on air?
Greg in Pennsylvania writes:
Now that is a question that I have an answer for: A nice warm sunny day floating down the Susquehanna River, Jim on the jet motor, me on point, beer in the cooler, a couple of good cigars and a limit of walleye in the locker and getting paid to do it! Now that is what I a call a dream job. You can take this job I have right now and shove it!
Rose in Ohio writes:
Jack, Any job that gives you a paycheck today is a dream job.
Scott writes:
A job where I can do hard labor six days a week. A job where I can come home dirty, and know that I put in an honest day's work. Blue collar work is the only work for me.
John writes:
One where I do not have to deal with office politics, stupid dress codes and people who think they are more important than they are.
David writes:
I always wanted to be a super spy.
Marvin in Wisconsin writes:
My dream job now would be to maintain the RNC social calendar.
Marsha in Elkhart, Indiana writes:
I have my dream job. As a live-in for a dear 90-year-old lady, I get to stay home, keep house, garden, care for someone on a daily basis, cook, etc. It is extremely rewarding and will have eternal value.
Desert Diplomat writes:
Jack, I'm a career diplomat with the U.S. State Department. I served my country honorably in Iraq last year and am headed back for a second tour this summer. Tough work, but service to my country is my dream job, and I'm doing it.
Sean in St. Louis writes:
Working for Fox News! Oh wait, April Fools' Day was yesterday.
Rose writes:
My dream job would be to work at CNN with you, Jack, and with Wolf Blitzer. I watch CNN all the time. I like you guys. Happy Easter.