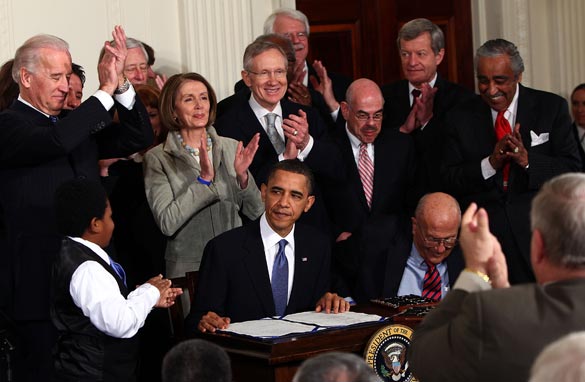 President Obama signs the final version of the health care bill. (PHOTO CREDIT:GETTY IMAGES)
FROM CNN's Jack Cafferty:
The Democrats may have won the year-long battle over health care reform, but there are signs it may not translate into victory come November.
In fact, just the opposite. Several new polls out suggest that the Democrats could be in trouble in the midterm elections.
For starters, a CNN/Opinion Research Corporation Poll shows that after the passage of health care, 55% of Republicans say they're "extremely" or "very" enthusiastic about voting in November. That's compared to 36% of Democrats. Although these numbers are up for both parties, the Democrats still face a double-digit "enthusiasm gap."
The poll also shows 48% of voters favor Republicans in their congressional district compared to 45% for Democrats. Add in the fact that Republicans usually vote at higher rates than Democrats, and you can see possible big trouble for Democrats.
To make matters worse, more than half of independents say they would back the Republican candidate. About the only silver lining for Democrats is a lot of people say they could still change their minds.
Meanwhile, a new USA Today/Gallup poll shows that Americans worried about unemployment and the economy are increasingly blaming President Obama.
The poll shows half of those surveyed say Mr. Obama doesn't deserve to be re-elected, and he doesn't get majority approval on his handling of the economy, foreign affairs, the deficit or health care.
Here's my question to you: How will health care reform affect your vote in the midterm elections?
Interested to know which ones made it on air?
Ray in Dallas, Texas
Given the extreme measures taken by the Democrats to pass the bill in the face of prevailing public opinion, the situation leaves me very motivated to vote in November. I think the incumbent, pro-Obamacare members of Congress are in deep trouble across the board at this point. And, I'm hardly alone in my motivation to work for and/or vote for an end of their terms.
Diane in Texas
I wish Gallup would call me. Thank goodness the Democrats got the beginnings of health reform passed! I live in a heavily GOP-dominated area of Texas but I will do what I can to get the obstructionist Republicans replaced by Democrats!
Joshua
The Democrats will pay heavy for this one. Hope Nancy is ready to hand over that gavel she seems to like so much.
Bob in Kansas City, Missouri
It won't affect my vote, I'll do the ABC exercise (Anybody But Conservatives).
Ken in Philadelphia
I will be looking to vote for more radical liberal Democrats. The current Congress failed to create a health care bill for ALL Americans. It's time for the unwashed masses to get rid of the privileged lackeys of the wealthy in this country. Vote them out. Incumbents, beware.
Jane in Wisconsin
Health insurance reform will absolutely affect my vote this November. The arrogance of Democrats in pushing this mess through despite the majority of the public being against it will play a big role in the vote. The idea that they would pass it first and "sell" it later is absurd.
Ann in Charleston, South Carolina
I live in South Carolina. The health care bill has nothing to do with wanting to get rid of our current Republican senator. I would vote for the Democratic candidate no matter how illiterate he was... I promise you it would be an improvement.