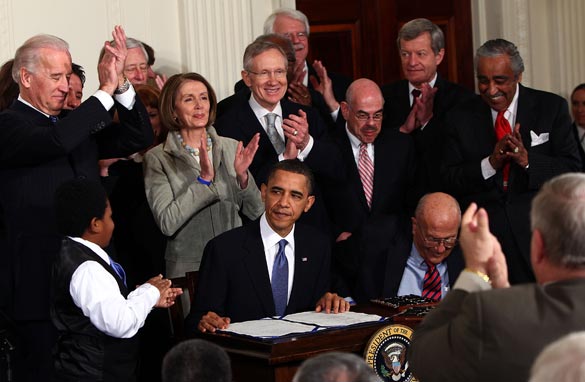 President Obama signs the final version of the health care bill. (PHOTO CREDIT:GETTY IMAGES)
FROM CNN's Jack Cafferty:
The Democrats may have won the year-long battle over health care reform, but there are signs it may not translate into victory come November.
In fact, just the opposite. Several new polls out suggest that the Democrats could be in trouble in the midterm elections.
For starters, a CNN/Opinion Research Corporation Poll shows that after the passage of health care, 55% of Republicans say they're "extremely" or "very" enthusiastic about voting in November. That's compared to 36% of Democrats. Although these numbers are up for both parties, the Democrats still face a double-digit "enthusiasm gap."
The poll also shows 48% of voters favor Republicans in their congressional district compared to 45% for Democrats. Add in the fact that Republicans usually vote at higher rates than Democrats, and you can see possible big trouble for Democrats.
To make matters worse, more than half of independents say they would back the Republican candidate. About the only silver lining for Democrats is a lot of people say they could still change their minds.
Meanwhile, a new USA Today/Gallup poll shows that Americans worried about unemployment and the economy are increasingly blaming President Obama.
The poll shows half of those surveyed say Mr. Obama doesn't deserve to be re-elected, and he doesn't get majority approval on his handling of the economy, foreign affairs, the deficit or health care.
Here's my question to you: How will health care reform affect your vote in the midterm elections?
Interested to know which ones made it on air?