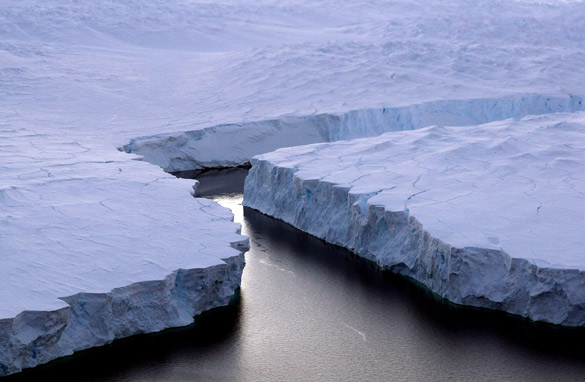 An enormous iceberg breaks off the Knox Coast in the Australian Antarctic Territory. Australia's CSIRO's atmospheric research unit has found the world is warming faster than predicted by the United Nations' top climate change body, with harmful emissions exceeding worst-case estimates. (PHOTO CREDIT: TORSTEN BLACKWOOD/AFP/Getty Images)
FROM CNN's Jack Cafferty:
A new climate bill that would cap carbon emissions, increase offshore oil drilling and expand nuclear power generation may soon be making its way to the Senate floor.
Senators John Kerry, Joe Lieberman, and Lindsey Graham - a Democrat, Independent and Republican respectively - are reportedly drafting legislation with broader appeal than the last climate change bill, which stalled in the Senate in the fall. The hope is that more conservatives and moderates will get on-board this time.
But it doesn't really matter, according to one of the biggest names in climate change. James Lovelock, a British scientist at the forefront of global warming research, says humans are too dumb to prevent climate change and that democracy is partly to blame.
In a new interview published in the British paper "The Guardian," Lovelock says climate change is an issue that may be as severe as a war and that "even the best democracies agree that when a major war approaches, democracy must be put on hold for the time being." Lovelock says that may eventually be necessary when it comes to global warming. He also claims only a catastrophic event now could persuade people to really take the threat of climate change seriously.
Here's my question to you: Are humans "too stupid" to prevent climate change?
Tune in to the Situation Room at 6pm to see if Jack reads your answer on air.
And, we love to know where you're writing from, so please include your city and state with your comment.