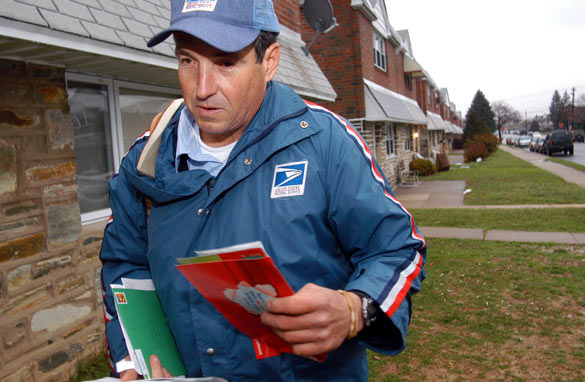 Saturday mail delivery and collection may end in early 2011. (PHOTO CREDIT: GETTY IMAGES)
FROM CNN's Jack Cafferty:
Big government costs big money, and in the recession, all levels of government are looking for ways to make budget cuts. On the national level, one of the big ones is the U.S. Postal Service, which is looking to move to a five-day delivery week.
Tomorrow, the USPS will submit a proposal to its regulatory board that would limit mail delivery and collection to Monday through Friday beginning early next year. However, post offices that are now open on Saturdays would stay open and express mail delivery would still be available seven days a week.
The postal service estimates the delivery change would save more than $3 billion a year which is a step in the right direction, considering it's on track to lose as much as $7 billion this year.
Then there are the states facing huge deficits. They are also under pressure to make some significant cuts.
In Illinois, lawmakers want to chop the school week to four days.
Supporters say that students would still have to complete the same number of hours per school year. They suggest a lot of money could be saved by not using heat, lights or cleaning the school buildings along with using school bus service for fewer days.
But critics say that students who receive free lunch would miss a day and a longer school-day means after-school activities would start even later.
Plus, there's a big question of what happens when kids are home an extra day but their parents are at work.
Here's my question to you:What government services could you get by with less of?
Interested to know which ones made it on air?