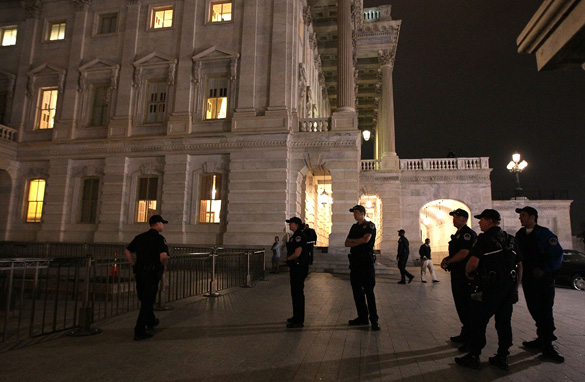 U.S. Capitol police officers stand watch in front of the Capitol Building in Washington, DC. (PHOTO CREDIT: GETTY IMAGES)
FROM CNN's Jack Cafferty:
At the NCAA tournament, the basketball team that loses shakes hands with the team that wins. It's called sportsmanship.
You see the same thing at NFL games, the World Series and boxing matches.
But where you don't see it much these days is in Washington, DC. We have become so bitterly divided that people on the losing side of a political debate - in the case of health care reform, Republicans and their supporters - have taken to hurling insults, using names like Baby Killer and using the most vile racial epithets to refer to African-American members of the United States Congress, as well as our President.
These recent examples follow the beginning of this descent into schoolyard behavior when during the President's State of the Union address - a Republican congressman yelled out: "You lie!"
That followed talk of death panels and the government killing your grandmother.
This kind of behavior by our leaders sends a subliminal message that this kind of behavior is acceptable, and eventually you get to death threats and perhaps worse.
What exactly are we becoming here? Do members of Congress start punching each other and throwing furniture the way they do in some legislative bodies elsewhere in the world?
In fighting health care reform at every step of the way, the Republicans may have made the political miscalculation of the century. When Republican Scott Brown won in Massachusetts, the GOP figured it had the health care debate in the bag and they didn't even have to be nice about it anymore.
But they lost, and now the residue of the bile they spewed during the debate has left a nasty taste in everyone's mouth.
Here's my question to you: Are Republicans sore losers?
Interested to know which ones made it on air?
Richard writes:
Republicans are not only sore losers but are also promoters of hateful rhetoric which has now been taken beyond just words. The party has spent so much time and effort convincing people that they should fear their government and yet they completely disavow themselves of any responsibility when those same people begin to act, in some cases, dangerously.
Joe writes:
I think the American people are upset that the majority didn't rule in a democracy because of backroom deals and promises. It's like shaking the hand of the other team, knowing they paid the referees.
Manuel writes:
We have sore losers on both sides, and the media's reporting is an enabler making it a three-ring circus, Jack. Don't we have an example out there of someone who passionately but respectfully disagrees? All we are doing is making our young people more mindless and cynical about politics.
Adam writes:
Positively, I don't remember hearing or seeing the Democrats jumping up and down pouting about the Bush tax cuts. You win the election, you set the agenda! The GOP keeps saying they are in favor of health care reform, but when they controlled Congress, I do not remember hearing one word about it. It was all tax cuts for the wealthy and spending the surplus invading sovereign nations.
JoAnn writes:
Yes, most definitely they are! Not only are they sore losers, I really feel that what they hate most was losing to an African-American.
Danny writes:
What a shame and disgrace that the Republicans have to act like bullies because they did not get their way. I have never done this before, but I have made a commitment that I will not vote Republican ever again… Those that make up the Republican Party, the religious right, the tea partiers, the social elite and mostly the wealthy, would have their will imposed on all of us who would disagree with them. Until we can agree to be disagreeable without being mean spirited, we have a very bleak future ahead, for all of us.