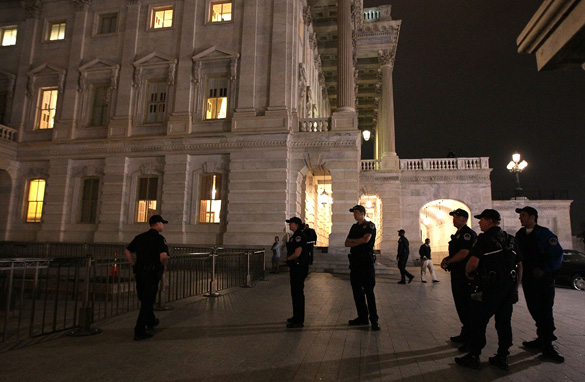 U.S. Capitol police officers stand watch in front of the Capitol Building in Washington, DC. (PHOTO CREDIT: GETTY IMAGES)
FROM CNN's Jack Cafferty:
At the NCAA tournament, the basketball team that loses shakes hands with the team that wins. It's called sportsmanship.
You see the same thing at NFL games, the World Series and boxing matches.
But where you don't see it much these days is in Washington, DC. We have become so bitterly divided that people on the losing side of a political debate - in the case of health care reform, Republicans and their supporters - have taken to hurling insults, using names like Baby Killer and using the most vile racial epithets to refer to African-American members of the United States Congress, as well as our President.
These recent examples follow the beginning of this descent into schoolyard behavior when during the President's State of the Union address - a Republican congressman yelled out: "You lie!"
That followed talk of death panels and the government killing your grandmother.
This kind of behavior by our leaders sends a subliminal message that this kind of behavior is acceptable, and eventually you get to death threats and perhaps worse.
What exactly are we becoming here? Do members of Congress start punching each other and throwing furniture the way they do in some legislative bodies elsewhere in the world?
In fighting health care reform at every step of the way, the Republicans may have made the political miscalculation of the century. When Republican Scott Brown won in Massachusetts, the GOP figured it had the health care debate in the bag and they didn't even have to be nice about it anymore.
But they lost, and now the residue of the bile they spewed during the debate has left a nasty taste in everyone's mouth.
Here's my question to you: Are Republicans sore losers?
Interested to know which ones made it on air?