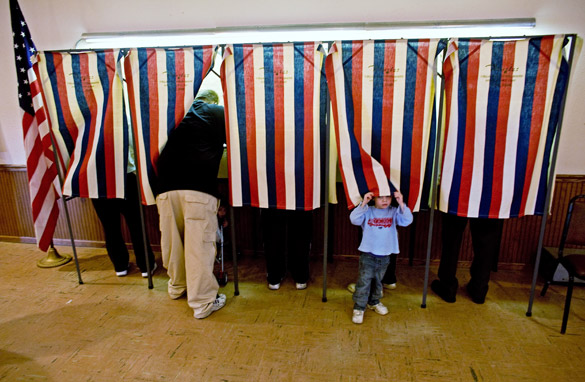 (PHOTO CREDIT: GETTY IMAGES)
FROM CNN's Jack Cafferty:
A wise person once said that the definition of insanity is doing the same thing over and over again and expecting a different result. Well, by that definition, the American people are insane - because we re-elect the same people over and over again and expect that this time it will be different. They will do right by us.
Here's yet another sign of what low regard we hold Congress in:
A new CNN/Opinion Research Corporation Poll shows that just about half of those surveyed say that most Republicans and most Democrats in Congress are unethical.
The poll also shows only one-third of Americans approve of how the congressional leaders have handled their jobs.
Another poll by CBS news shows even worse results for party leaders Nancy Pelosi and Harry Reid. Only 11 percent have a favorable view of Pelosi; and eight percent for Reid. And both these polls were taken before the health care vote.
All this seems to suggest that maybe this will be the year to vote incumbents out of office. Even though history strongly suggests otherwise.
Another survey we recently told you about in the Cafferty File asked: If there were a single line on the ballot that would let you vote out every single member of Congress - including your own representative - would you do it? Half of the people surveyed say "yes."
But we never do. Insanity.
Here's my question to you: Why do Americans keep voting the same politicians into office if we disapprove of the job they're doing?
Interested to know which ones made it on air?
Alex writes:
When more people vote on American Idol than they do in any governmental election, it's not that the people keep voting the same Congress in, it's that the people who want to vote them out simply don't vote.
Terry in Arizona writes:
We have become a nation of Kool-Aid drinkers. Members of Congress have the same control over us voters as Rev. Jim Jones had over the people of Jonestown. Also, the idiot running against the incumbent idiot may be an even worse idiot. I'm not going to mention any names, but we in Arizona have this scenario taking place now, and it is getting national attention.
Chris in Pittsburgh writes:
Jack, The issue is not the politicians, it is the two-party system. We can keep re-electing new politicians but if they are more loyal to their party than their constituents, the same result will happen again and again.
Alice writes:
It's always "throw the bums out!" But when people get into the voting booth, they whisper "But not my bum. He always brings home the bacon, he's really a good guy, he spoke to me at the fundraiser, etc."
Jerry writes:
The answer is simpler than you may think: People answer surveys to send a message. The voting booth is more sacred and reflects the real truth of how someone feels.
Jordan in Flushing, New York writes:
We hate the other guy's representative, not our own. A New Yorker is aghast at the Texan yelling "baby killer," while a Texan is fuming at the New Yorker fighting for health care reform. We don't hate Congress, we hate each other. Washington represents our national opinions and dialogues, it doesn't create them.