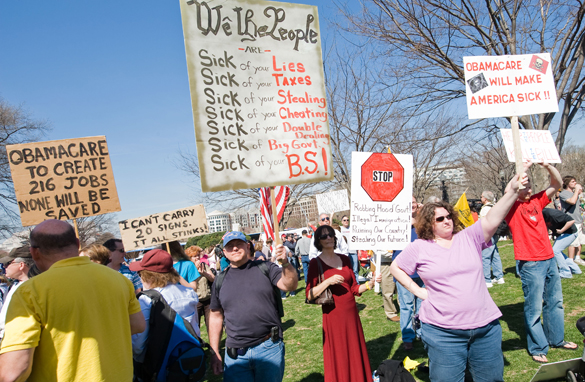 Supporters of the Tea Party movement demonstrated outside the Capitol over the weekend against the health care bill which was just signed into law. (PHOTO CREDIT: NICHOLAS KAMM/AFP/Getty Images)
FROM CNN's Jack Cafferty:
The health care debate represents the "most crushing defeat" for the Republican Party in four decades... and that's coming from a Republican.
Former Bush speechwriter David Frum says the GOP may be overly optimistic about its chances of winning seats in the midterm election; and that the party has only itself to blame for what has happened.
Not all Republicans feel this way - some think they haven't miscalculated; and they're prepared to campaign on a pledge to try to repeal health care reform. Their mission now will be to prove to voters that this bill is a bad idea and that it will cost them.
But that won't necessarily be easy. The Democrats were smart - and timing is good. Very good. Consider this: Some of the benefits of health care reform go into effect only weeks before the midterm elections - a lot of them being the most popular and least costly to implement.
Also, voters may be left with a bad taste in their mouths from the way some Republicans behaved at the end of this debate... including shouting insults in the House chamber and encouraging outbursts from the galleries.
Of course - there is hope for Republicans. They were very effective last summer at controlling the message with tea parties and town hall meetings; and polls show that Republicans are among some of the most motivated voters heading into the midterms. But it's definitely time for the GOP to step up and prove they're more than what the Democrats call the "party of no."
Here's my question to you: Where do the Republicans go from here?
Interested to know which ones made it on air?
Chuck writes:
They could propose something on term limits. That's certainly a popular idea right now. All this repeal activity and lawsuits about the constitutionality of the health care bill are really dead ends and certainly won't do them any good in the midterms.
Jim writes:
The answer is simple. The House and Senate majority for the Democrats will be no more in November 2010... Hopefully the Republicans can stall any other attempts by Pres. Barack Obama to cause any further damage to the country until the Democrats lose their majority.
Jesse in Vancouver writes:
Hi Jack, Republicans should be very worried as there are 32 million people in America who now have access to health care and will be healthy enough to vote against all those who didn't want them to have it.
E. writes:
No ideas, no diversity, no record of helping Americans when they've had the chance. The Republicans have become the party of angry, bitter, reactionary whites. They will go the way another similar group consisting of such people went – into the lunatic fringe, like the KKK.
Tom writes:
Did all Medicare recipients vote Democratic since 1965? Neither will all new beneficiaries of Obamacare. More R's, less D's in November.
Doug writes:
Start looking forward, engage constructively in solving our nation's issues, and quit trying to fight Obama on every single initiative. Otherwise, the 'party of no' will get a resounding 'no thanks' from the voters.
James writes:
I know where I'd like them to go, but I don't think it should be read on national TV.