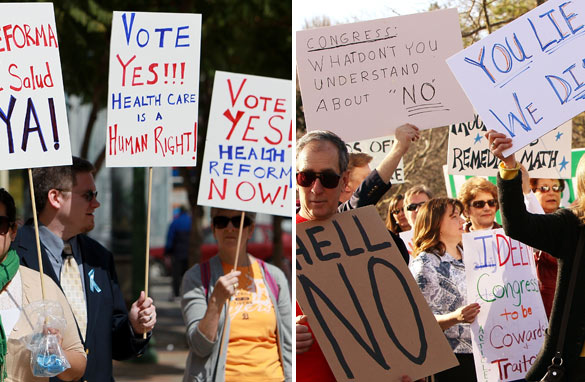 Left: Clinic workers rally in support of Pres. Obama's historic health care reform package, urging congressional leaders to vote 'yes'. Right: Opponents of health care reform demonstrate against Obama's proposed health care legislation. (PHOTO CREDIT: GETTY IMAGES)
FROM CNN's Jack Cafferty:
On the eve of that historic health care vote - the American people are fed up with Washington.
A new Gallup poll shows President Obama with the worst job approval rating of his presidency. 46 percent approve of the job he's doing - while 48 percent disapprove.
As for Congress - Americans think even less of that bunch; only 16 approve - which is close to an all-time low - and a whopping 80 percent disapprove.
And, There are more signs that incumbents better watch their backs come November.
A Wall Street Journal/NBC News poll asks: If there were a line on the ballot that would let you vote out every single member of Congress - including your own representative - would you do it? Half of the people surveyed say "yes."
As a piece in the Journal suggests: "Congress always looks worst when it's in the middle of making the sausage known as legislation... By contrast, lawmakers usually look better when the sausage is finished, packaged and displayed on the store shelf."
What's unclear is whether the American people will look more favorably on the president and Congress if - and it's still a big "if" - they can make the sausage, also known as health care reform.
Democratic Congressman Tom Perriello of Virginia summed up the way a lot of people feel about our lawmakers when he put it this way: "If you don't tie our hands, we will keep stealing." He was talking about how the only way for Congress to be fiscally responsible is to give them no choice.
Here's my question to you: What does it say that on the eve of the health care vote, President Obama's approval rating in one poll is the lowest ever and Congress' approval rating is nearing an all-time low?
Interested to know which ones made it on air?
Dave writes:
Simple, Jack. No one likes how they are going about this business. It is the exact thing Obama said he was against and would not do if he were elected. They should listen to the people and stop thinking that they know what's best for us and work on a true bi-partisan bill for reform that isn't just one-sided. I'm scared to death.
C. in Louisiana writes:
Polls, polls, polls. I haven't been polled and I haven't changed my mind about this president or health care. I believe it's the right thing to do and we can't begin to address our deficit until we do something about ballooning health care costs. I also voted for Obama and I am not sorry; I still support the platform he ran and was elected on.
J.C. in Sacramento, California writes:
30 million uninsured represents 1/10 of the population. However the bigger issue facing 90% of the population is the escalating cost of health care, which this bill does nothing to address.
David in Orlando, Florida writes:
Health care reform is no longer about WE THE PEOPLE. Democrats and Republicans are at WAR with each other. We the people have been locked out of this fight. But we will be required to clean up the mess.
Tim in Toledo, Ohio writes:
I think the public is afraid of a bill that is so blatantly free of bipartisanship. The fact that the Democratic Party is going to force it through anyway screams of arrogance. It more or less sends the message that "we are right, regardless of what anyone else thinks". That type of attitude generally is not well-received. When Obama was elected, I truly believed he would be a two-term president. Now I'm certain that he will be removed after 4 years.
Duane in St. Petersburg, Florida writes:
We don't want this bill to become law and no one is listening. Not Obama and not the Congress. Hurry up, November!