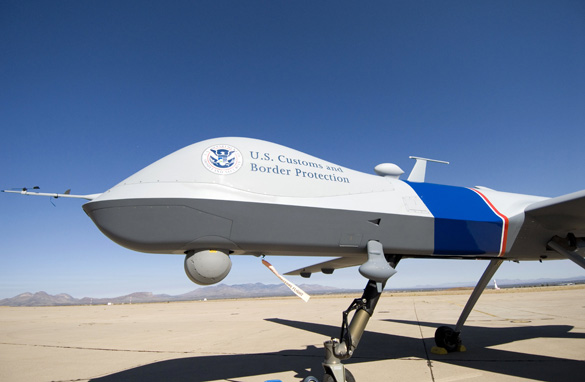 The MQ-9 Predator aircraft would patrol the southern border of the U.S. in order to stop the illegal entry of thousands of Mexican nationals and drug runners. (PHOTO CREDIT: GETTY IMAGES)
FROM CNN's Jack Cafferty:
Despite a deepening crisis along the U.S. border with Mexico, our government refuses to get serious about security.
Texas Governor Rick Perry has asked the federal government for unarmed predator drones to patrol the border. It's a request he's made before, but is now renewing after three workers at the U.S. consulate in Juarez were murdered.
Perry asks: "How many Americans will have to die before our federal government takes serious action along the Texas-Mexico border?"
Chances are Texas will have to wait. Some more. Homeland Security Secretary Janet Napolitano says she's considering Perry's request, but insists the government is constantly watching what's happening at the border. Watching is about the extent of it.
Napolitano also announced she's holding up funding for plans to build a virtual fence along the border. She says it's because the system of sensors and cameras has had many problems, including cost over-runs. So Napolitano wants a review to be completed first.
Exactly what we need - another review of border security. The government can continue to do nothing while drug-cartel violence along the border keeps getting worse.
Texas recently issued a warning to parents not to allow their children to go to Mexican border towns on spring break. And the State Department has put out a travel warning to delay visits to certain parts of Mexico. Maybe it's time for Americans to boycott all trips to Mexico - spend our vacation money somewhere else..
More than 4,000 people have been killed in the border city of Juarez in the last two years.
Here's my question to you: Should drones be used to patrol the U.S. border with Mexico?
Interested to know which ones made it on air?