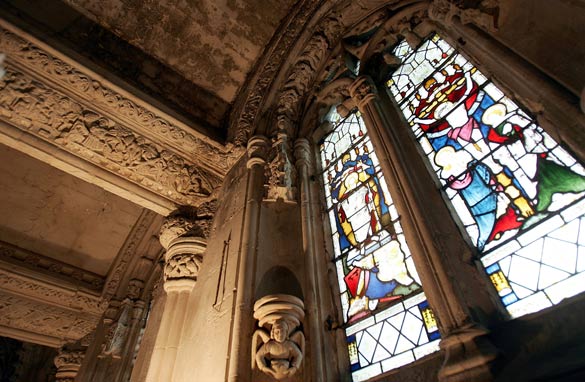 (PHOTO CREDIT: GETTY IMAGES)
FROM CNN's Jack Cafferty:
The Catholic Church is immersed in yet another child sex abuse scandal - this time in Europe.
Allegations of sex abuse by Catholic priests are spreading across the continent - from Pope Benedict the 16th's native Germany to Ireland, Austria, Switzerland, Italy and the Netherlands.
And this time the claims may hit a little too close to home for the Pope.
The Archdiocese of Munich has revealed it allowed an abusive priest to keep working in the early 1980s - at a time when Benedict was archbishop there.
The Vatican was quick to respond - with the number two official at the time claiming full responsibility. But Benedict was the archbishop.
The scandal keeps growing. In Germany alone there are new claims nearly every day; hundreds of alleged victims have come forward claiming either sexual abuse or physical violence at the hands of priests.
In Ireland the floodgates have opened - there are now more than 15,000 complaints in a country of four million people. Three government-ordered reports have shocked and disgusted that nation.
As more and more victims come forward with their stories, some wonder if it's not just a matter of time before some European dioceses will be forced to declare bankruptcy like some did in the U.S.
Experts say the Pope is not likely to resign. Of course not - that would be tantamount to an admission of guilt, wouldn't it?
But the scandal could do enormous damage to his papacy, his moral credibility and his reputation.
Here's my question to you: How should the Catholic Church address the child abuse claims sweeping across Europe?
Interested to know which ones made it on air?
Kathleen in Oak Park, Illinois writes:
Addressing child abuse claims will be futile until the Catholic Church admits celibacy is at the root of this terrible problem. I have given up hope it ever will. That is just one of myriad reasons that I, a life-long Catholic, have after much soul-searching finally left the fold.
Susan in Alabama writes:
As a Catholic and a parent, I'm completely befuddled as to why people would take complaints of sex abuse by priests to the Church instead of (1) filing criminal charges or, even better (2) shooting the bastard. Personally I recommend the latter… The fact that parents and victims come to the Church for a cash payoff not only keeps the predators on the streets but leads to many false claims that, years after the alleged encounter, can be neither proved not disproved but adversely affect the credibility of REAL victims.
E. writes:
Maybe I just don't get it with the Catholic Church. How does it ostracize some for decisions that they make that really have nothing to do with the Ten Commandments and yet those who abused children are shifted from one job to another, suspended but not fired, their actions dismissed or minimized in importance? Why is this hypocrisy accepted by the Catholic church members?
Rich writes:
As a victim of clergy sexual abuse, I can assure you this isn't a new story. These crimes have been occurring against children for hundreds of years. It's only because of our advanced technology in communications that we can see that it's a worldwide epidemic, and it won't end until the Church deals with it honestly and with transparency. The Catholic Church is equal to the Mafia, in its practices of integrity.
Clifford writes:
Jack, I think the Catholic Curch should open all the windows and doors and let some sunlight and fresh air in, dump over the barrel and sort out all the bad apples once and for all. If not, they soon will not have congregations to worry about.