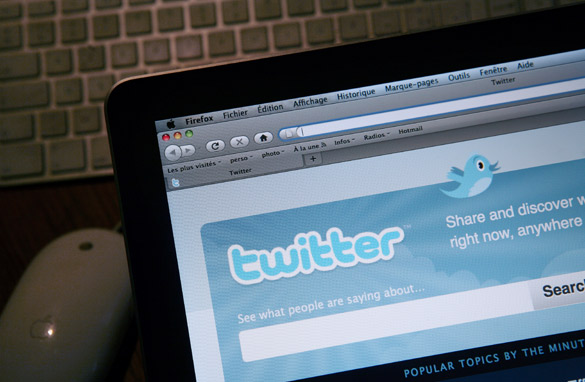 (PHOTO CREDIT: LOIC VENANCE/AFP/Getty Images)
FROM CNN's Jack Cafferty:
Why no one cares about privacy anymore... That's the title of a piece on CNet.com. It describes how - as technology and especially social networking sites keep growing - people seem more and more willing to part with confidentiality. In many cases, they give up some level of privacy in order to access these services for free.
Think about it: Millions of people go online every day to sites like YouTube, Facebook, Twitter, Google... they share pictures, videos, personal information about their family, their jobs, their education... or even trivial things like their favorite movie or what they ate for lunch.
Plus - it's more common for these services to be able to track you. Twitter now allows users to include so-called geolocation data in their messages; and they're encouraging people to do so. Other services let you select who can monitor your GPS-derived location every moment of the day through your cell phone. Google Maps can show pictures of your front door.
As for medical privacy... some seem to care less who knows intimate details about their health - they go online to share stories about cancer or other diseases or to give details of their pregnancies.
Then there's the ability of companies like Amazon.com or Netflix to gather information on your shopping habits and suggest which movie or book you may want to buy next.
It should come as no surprise that young people - the so-called Generation X-hibitionist - are the most comfortable with all this. One 2008 survey shows only 41 percent of U.S. teens were concerned about privacy; 59 percent were happy to give personal information to marketers.
Here's my question to you: Are we as concerned about our privacy as we used to be?
Interested to know which ones made it on air?
Liz in Los Angeles writes:
Seems to me that we're not nearly as concerned as we should be. The potential for bad things to happen only increases as people share themselves with the world. Call me a fuddy-duddy, but there's no way I'm going to "friend", "tweet" or do anything else that compromises the privacy I have fought hard to maintain.
Donald in California writes:
Privacy is a thing of the past. A person with no education can get your information and buy a house with it.
D. in Atlanta writes:
It's just like those who, if asked, would find it horribly invasive if the government wanted to know where they were at all times. But, ask those same people if they want free satellite systems (like ONSTAR) and they think they are getting a deal! They are just not smart enough to connect the GPS in the satellite system and the fact that anyone who has access to that system knows EXACTLY where their vehicle (and probably the owner) is at any given time!
Austin writes:
I work for a non profit soup kitchen and Facebook has been a vital tool to our donation progress. Just because you are stuck in a different era should not mean the rest of us can not utilize new technology to benefit the less fortunate.
David in Alexandria, Virginia writes:
I mean, why bother? Our cell phones know where we are, our ATM machines take pictures of us and everyone else walking by, our credit card companies track our every purchase, my computer tracks my clicks and can photograph me without my knowledge, our EZ pass notes our every traverse, and our credit verification companies know more than I do about my personal life. That's all before the government spooks get serious about invading my privacy – if they do.
Guy in Hawaii writes:
That's none of your business! However, computers, texting, dating websites, Facebook, Google searches, etc. have changed all of this. Forever. I'm concerned but then...I have nothing to hide. If someone, somewhere is watching what's going on in my private life or in my bedroom, I hope they're enjoying it as much as I am!