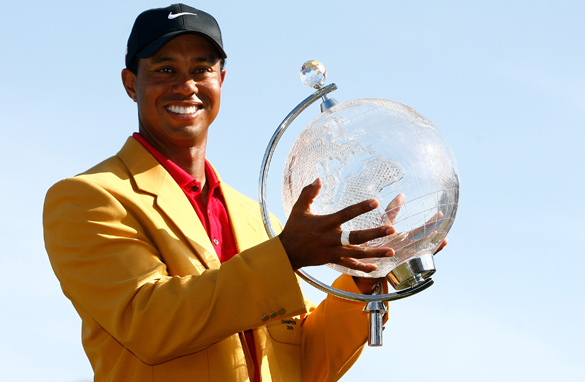 FILE PHOTO: Tiger Woods poses with his trophy after the final round of the 2009 Australian Masters on November 15 in Melbourne. (PHOTO CREDIT: GETTY IMAGES)
FROM CNN's Jack Cafferty:
After months of hiding out, the implosion of his personal life and squeaky clean reputation... and lots and lots of therapy - Tiger Woods might soon play golf again.
The AP reports Woods will likely play for the first time at the Masters in April - and there are other reports he could play at Bay Hill in the Arnold Palmer Invitational later this month. His agent says "no decision has been made yet."
But just imagine the TV ratings if he returns. In the past couple weeks - Woods has been practicing near his Florida home, including work with his swing coach.
Woods hasn't played in a tournament for four months - since November 15th - when he won the Australian Masters. Less than two weeks after his 82nd career victory - he crashed his SUV into a tree near his home in the middle of the night... which launched an avalanche of creepy revelations about his infidelities.
When Woods made his first public appearance last month in that tightly scripted, awkward event at PGA Headquarters... he said he would play golf again and didn't rule out this year.
Meanwhile - it's more than his golf swing that needs work. Tiger is also working on him image - which was more badly damaged than his SUV. He has lost a boatload of valuable sponsors not to mention the respect of many fans. There are reports that Woods has hired former Bush White House press secretary Ari Fleischer, who owns a PR sports firm, to help plan his comeback.
And the Masters may be a pretty good place to do it... Tiger has won there four times... plus it's the only tournament where the media aren't allowed inside the ropes.
Here's my question to you: If Tiger Woods returns at the Masters, what kind of reception will he get?
Tune in to the Situation Room at 5pm to see if Jack reads your answer on air.
And, we love to know where you're writing from, so please include your city and state with your comment.