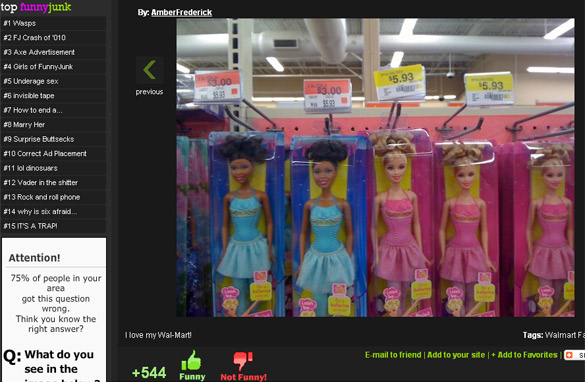 (PHOTO CREDIT: FunnyJunk.com)
FROM CNN's Jack Cafferty:
Walmart is under fire for selling black Barbie dolls at nearly half the price of white ones - in at least one store.
Photos first appeared on a Web site called FunnyJunk.com showing Mattel's Ballerina Barbie - the white doll - with a price tag of almost $6.
These dolls are on the shelf right next to Ballerina Teresa - the black doll - with a reduced price of $3.
The photo was apparently taken at a Louisiana Walmart store.
Walmart says this was a business decision... telling ABC News that the price reduction was meant to clear shelf space for new spring inventory. They say many items are marked for clearance, adding "both are great dolls... one was marked down due to its lower sales to hopefully increase purchase from customers."
That reasoning works for lots and lots of products, but maybe not in this case. Not everything can always come down to a business decision.
Critics charge Walmart should have been more sensitive when it came to these dolls - they say that even if it's not intentional, the chain is sending a message that "we value blackness less than whiteness."
One sociologist says that when white dolls sell more than black dolls - it is because black parents are more likely than white parents to buy a doll of a different race for their kids. She suggests Walmart should have kept the dolls at the same price in order not to reinforce any "ugly inequalities."
Here's my question to you: What message does it send when Walmart sells black Barbie dolls for less than white ones?
Interested to know which ones made it on air?
Joe in Rock Hill, New York writes:
Jack, Walmart was business-oriented when reducing the price of an item that has not sold. Anyone still holding a race card, please rip it up and dispose of it. When I buy jelly beans, I always throw out the black ones. Not that I am racist, I do not like licorice. I do not like coconut either. Get over the B.S.
Kam writes:
There is a message even though people don't want to admit it. It is reflective of the situation in our American society: whites are valued more than blacks. It's not Walmart's fault by a long shot. Even black parents are more likely to buy white dolls for their kids than white parents are to buy black dolls. I am black and growing up I had way more white dolls than black dolls (and a racial complex to go along with it.)
Darryl in Denville, New Jersey writes:
Ahhh, c'mon Jack. I'm black (aka African-American) and will tell you unambiguously that it means nothing more than the fact that (a) parents tend to buy Barbie dolls that most resemble their daughters and (b) fewer black parents are buying their girls dolls. This should come as no surprise given the jobless rates among African-Americans. I'm sure Patrick Kennedy is smashing his T.V. to bits right about now.
Casey in Ruth, California writes:
You'd have to have some sort of mindset that incorporates consideration, fairness and ethnic sensitivity to be aware of the message you might send, wouldn't you? Walmart only speaks dollars, so their prices reflect pushing sales of items that are not currently selling. Why would you expect any other behavior?
Robby writes:
This is silly. I worked at Walmart for 10 years. If an item does not sell, it will go on clearance. To single out a certain doll because of a color is racist in itself. I just see dolls on sale and one is on clearance.
Jim in Reno, Nevada writes:
Jack, Walmart's explanation rings true if for no other reason than they couldn't possibly be stupid enough to lower the price on the black Barbies out of racial prejudice.
Joe writes:
If there is a message, only someone like you could see it. Another dull news day, Jack?