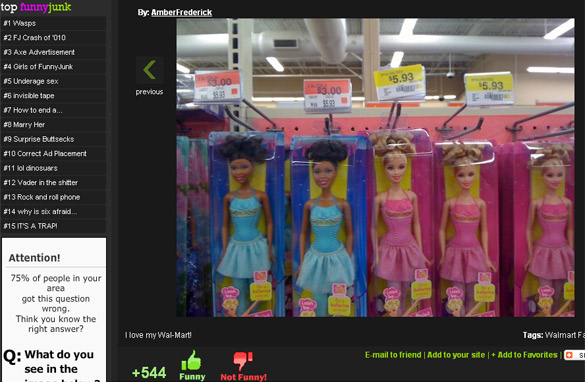 (PHOTO CREDIT: FunnyJunk.com)
FROM CNN's Jack Cafferty:
Walmart is under fire for selling black Barbie dolls at nearly half the price of white ones - in at least one store.
Photos first appeared on a Web site called FunnyJunk.com showing Mattel's Ballerina Barbie - the white doll - with a price tag of almost $6.
These dolls are on the shelf right next to Ballerina Teresa - the black doll - with a reduced price of $3.
The photo was apparently taken at a Louisiana Walmart store.
Walmart says this was a business decision... telling ABC News that the price reduction was meant to clear shelf space for new spring inventory. They say many items are marked for clearance, adding "both are great dolls... one was marked down due to its lower sales to hopefully increase purchase from customers."
That reasoning works for lots and lots of products, but maybe not in this case. Not everything can always come down to a business decision.
Critics charge Walmart should have been more sensitive when it came to these dolls - they say that even if it's not intentional, the chain is sending a message that "we value blackness less than whiteness."
One sociologist says that when white dolls sell more than black dolls - it is because black parents are more likely than white parents to buy a doll of a different race for their kids. She suggests Walmart should have kept the dolls at the same price in order not to reinforce any "ugly inequalities."
Here's my question to you: What message does it send when Walmart sells black Barbie dolls for less than white ones?
Interested to know which ones made it on air?