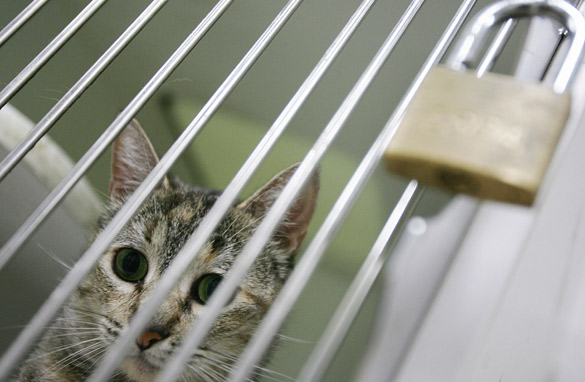 A domestic shorthair cat waits to be adopted. (PHOTO CREDIT: ROBYN BECK/AFP/Getty Images)
FROM CNN's Jack Cafferty:
Here's something about PETA - People for the Ethical Treatment of Animals - that might surprise you.
AOL News reports that the organization euthanizes more than 90 percent of the dogs and cats sent to its Virginia headquarters. According to state records, PETA euthanized more than 2,300 dogs and cats in 2009 - or 97 percent of all those brought in. It adopted only eight.
By contrast - in 2008, the Norfolk SPCA adopted 86 percent of its dogs and cats while euthanizing only five percent. And the Norfolk, Virginia city pound euthanized about half of its dogs and cats last year.
Critics are fuming, saying PETA's numbers can't be "ethically rationalized." They insist shelters should only euthanize those animals that are too aggressive or have health issues. They shouldn't put them down merely because they don't have room for them.
But PETA tells a different story. They say the Virginia facility is not an adoption center but rather a "shelter of last resort," taking in those animals that other shelters reject. PETA says its "euthanasia program has never been a secret" and that it is only one of the many things they do to alleviate suffering of animals.
PETA says that it is worse for animals to be caged up in over-crowded shelters. They put the blame on breeders and pet shops that create six to eight million shelter animals every year, which is why they also promote spaying and neutering of pets.
The irony is PETA has a reputation for instantly jumping all over any group or individual who they consider guilty of poor treatment of animals. And some people might think putting animals to sleep falls into that category.
Here's my question to you: Do PETA's euthanasia rates for animals make the group hypocritical?
Interested to know which ones made it on air?
Clyde in Seattle writes:
PETA deserves some scorn for this and they've been hearing it for years from other animal rights groups. Euthanasia is a simple solution to a complex problem. Rates of 20% or less represent model shelters. 40% can represent an area where strays are a problem and attitudes towards spay/neuter are outdated. 97% is simply extermination.
Allison in Vancouver writes:
Where exactly would you find homes for 2,300 dogs and cats that are deemed un-adoptable by other shelters? What would their lives be like if they are kept in small cages, etc.? It's far more humane to put them down. Those of you who are appalled by this, go visit some animal shelters and see what the conditions are like.
Chris writes:
Perhaps if PETA spent some of the money they currently throw at celebrities posing nude, on the actual health and well-being (read: placement) of the animals they're allegedly "rescuing," this would not be an issue.
Dean writes:
Absolutely not! PETA is right on about being a shelter of last resort. The only animals turned over to PETA have been refused by other lower kill shelters. PETA very effectively advocates for policies that if followed would significantly lower the number of animals who are turned into or picked up by shelters.
Reynard writes:
PETA is so critical of anyone one accused of unethical treatment of animals even before due process is granted. For them to have euthanasia rates that are so out-of-sync with other agencies makes me question their ethics. I wonder how Mike Vick feels about being socially, financially, and emotionally destroyed by people with this type of track record. They should protest outside of their own headquarters.
Eric in Houston writes:
Jack, It does make them appear hypocritical, but since they usually appear to be total lunatics, this is an improvement. Honestly, this may be the first thought-out, responsible thing they have ever done.
Michael in Phoenix writes:
Sure sounds like it. We have adopted 2 cats and one dog in three years. Terrific pets, but they act just like children.